One of the core mechanics in Excubitor will be the ability to defend the mothership Antares by building defensive turrets. The turrets can be built on predetermined slots on various locations in the gameplay area.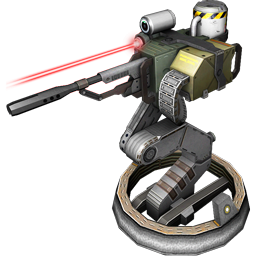 The type and cost of the turret will vary based on its power and utility. The first turret available to the players will be the Viper machine gun.
The Viper is a basic rapid- fire turret with both air and ground targeting capabilities. While not as powerful as the newer, more advanced turrets, it's low cost will make it useful even in the later stages of the game.
We plan to include a total of eight defensive turrets that will be gradually unlocked as the player progresses in the game. While most of them will be damage dealers with the sole function to destroy the incoming waves of enemy forces, some have the ability to slow or disable the enemy vehicles for a short duration of time. By combining these elements the player will be given the opportunity to create his\her own strategy to defend the mothership and stop the enemies in their track.

A video showing the turret building menu and the Viper turret in action
Stay tuned for future updates on the other turrets that will feature in the game as well as other news from the development process.