It's been a few weeks but here's an update for everyone. Sorry it has been so long but I thought you would appreciate an update over a trickle.
First up, we have put the game up on Steams Greenlight! We're under Concepts for the time being, I didn't want us on full Greenlight until we had some gameplay video to show. I thought you can't really decide if you want to play a game without seeing it play.
So check that out, have a look and leave some feedback in a Thumbs Up or Down. We want to know if you want this game or not =)
The games homepage is finally up and running although it still has its out of date placeholder image, it will be updated with community features, media and news soon! I hope we can grow a fun community around the game and hear your thoughts on it.
Interwebz stuff aside the game is coming along.
The guys running Starter for 10 have moved our deadline by one day! The game will now be ready on the 5th of September, which I think is still doable =P
That deadline is getting very close now, if you want to come and see us and play the game on the 5th of September the event will be announced soon.
Race Arena!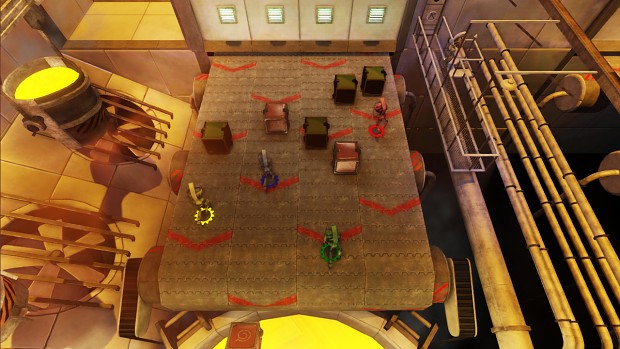 We have finished up our Race arena, a few touches to be made here and there but you can see how it will work! This is demonstrating our Obstacle maze sprint. The little robot at the top right along with the row of four lights is used to introduce other elements in the other race modes.
Testing is still pretty delayed which is very frustrating! We really need to get some video to you guys ASAP which is my number one concern right now.
I'll have another update for you soon, in the mean time remember you can keep track of our progress by following us here on IndieDB or by tracking our Facebook, Steam Greenlight and Twitter!