Big News!!
It was a while ago I posted that Dead Year was going into re-development in Unity 3D Engine, and today I bring the first screenshot of the progress we have made. The picture you see below is just the first of 10 or so islands to be in the end game. The image doesn't represent the end product, changes WILL be made. The island is mostly sand, and covered with different trees. There is a break in the palm trees where there is a geyser, which is mainly there because I wanted to learn more about the particle system Unity has. I have a little shanty town as well, with enterable buildings. The island is quite small, only 500x500 metres, and will be the smallest by far. We plan on the largest island surpassing 5x5 km. We don't have any gameplay or anything to show you yet, as it has been only a week since we starting working on Dead Year again.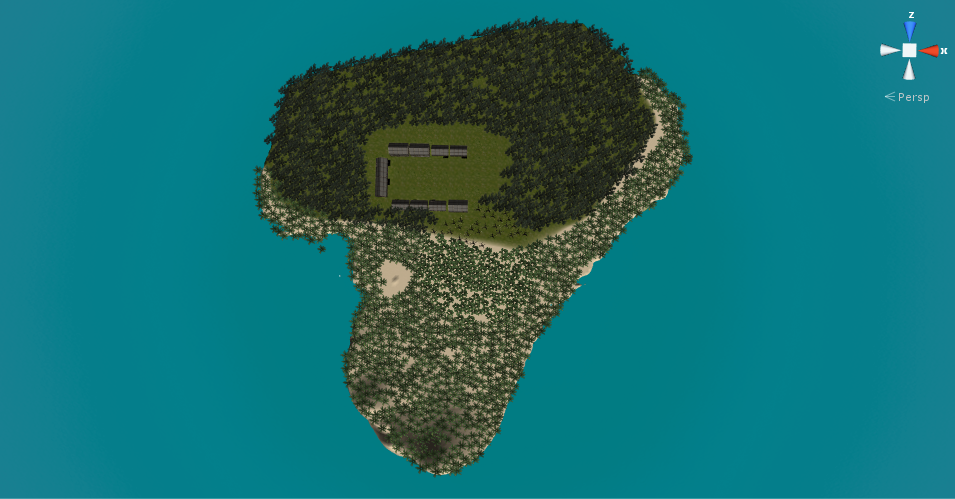 About the Game
Dead Year will be a completely open world game, with over 10 different islands to explore. The backstory to the game is undetermined, but we have a few ideas. Here is what we have so far:
The RUI (Republic of the United Islands) declared a civil war between the tyrannic South Islands against the democratic North Islands. Amidst all the battling, a mysterious disease arose from the sea, causing the vast majority of all islands to lose there lives. There were a few people who were born immune to this disease, but only 10% of the population is made up of these people. 65% of the population lost there lives to the disease, and the people who didn't lose there lives ended up in an overly depressed state, and seemed to have an everlasting appetite. With all these "Infected" people roaming the islands and eating all the naturally growing food, people had to stockpile there imported and canned food. A year after the infection first hit the RUI, the country is in a nationwide state of emergency, and with this highly contagious disease floating around the island, foreign nations refuse to send troops and aid in fear they may lose too many people to the disease. The "Infected" people seem to have developed a variation of the disease that can be passed on to the immune people through open wounds. With this new variation of the disease, some Immunes have banded together to help each other, while others try to gain whatever they can from the new found fear of this variation disease. The people that do this are called "The Dead", and they do anything and everything in there power to benefit members of the group, and hurt other groups of Immunes. They constantly attack and wage war against other groups, as well as loot helpless Immune families. It is the players job (thats you!) to bring peace back to the Immune groups, and get help from foreign countries.
Tell us what you think of the backstory so far, and let us know what you would change!
The Team
Dead Year now consists of a much larger team:
- Dawson "Rafficka" McMillan, Project Lead/Lead Programmer.
- Brad "DuhbleB" Barr, Programmer.
- Jason Hope, Lead 3D Modeler.
- Philip Hickey, 3D Modeler.
- Derek Johnson, 3D Modeler.
- Neuro, Programmer/3D Modeler
The roles of everyone has yet to be decided, but this is the team! If you wish to join the team, send me an email at dmcmillan@dexxugames.com
Plans!!
We have lot's planned ahead for the coming months, and I will share with you some of those things. First off, we may change the name from Dead Year 3D to something else, it is too early in development to decide. Secondly, we plan on releasing in-game screenshots as soon as we have enough implemented to do so. We are excited to work on this game, and the amount of work we have accomplished since re-starting development has been surprisingly immense. We plan on putting out more screenshots once every few days (Hopefully!), and will put out a video in a few weeks.
We also have todo list before we reach alpha stage:
- At least 3 Islands.
- At least 10 weapons.
- At Least 1 land vehicle, and 2 sea vehicle.
- Inventory system.
- Physics-based base building (that's a mouthful).
- Camp system.
- Weapon attachment and upgrades system.
- Player Skills/Upgrade system.
- Player experience points system.
- Replace all models with our own.
- Enhanced lighting.
- Co-op of some sort.
Thanks for taking interest in our project, please comment your thoughts!
- Dawson "Rafficka" McMillan
Founder and CEO, Dexxu Games Ltd.
Dead Year Project Lead/Lead Programmer.