Here we are again giving you a little update (yes they are coming more frequently now - like we announced last week).
First of all you surely noticed the uber amount of redundant features we have. Now after spending over 2 hours (with Insulaner and TheFrog4u) discussing the optimal position of the bullets in the skinned renders we are finally ready to post the news update.
Basicly we nailed it down to 3 bullets and one roundball (the shotgun shell has been released with the shotgun renders and can be seen in our media section). We got a high and a lowpoly version for each bullet (high is shown at the menu and while reloading, low gets ejected by the weapons and lys on the floor). However of course you can choose to only use the high versions if you want. Not only do we have an unskinned render, but we also have a skinned and comparsion render for the low and highpoly models! Celebrate the Day of the Bullet I say (skins by Insulaner):
Apart from the bullets theres another skin to showcase. The bat skinned by azelito and modelled by the TheFrog4u (who also modelled the bullets).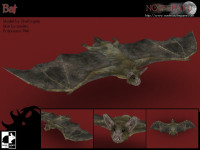 Moreover did I update the website with two new sections (links and .plans). "Links" basicly includes links to nosferatu related things like interviews, awards and so on. ".plan" on the other hand lets you read our .plans on the page without checking the boards.
Well I am sure you can't wait to read my latest .plan update however the discussion on the bullet positions exhausted me so much that I will actually update my .plan tomorrow. (Edit: .plan has been updated)
Finally let me finish this news post by introducing our newest members Celica (skins and artwork) and Terak (models).