Hi there, nice to see you stopping by!
For some time now I have been developing Dave Dynamite. Now, the game is finally in a stage where Dave is ready to get out there.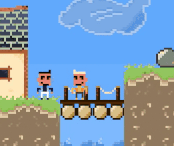 So what is Dave Dynamite? Dave Dynamite is a fun, cute platformer where you are playing as Dave who is capable of using his supply of TNT to his advantage. Your goal is to reach the end of the level, bomb your way through the dangerous mobs and get the highest score!
The game can be played by one person or you can play the game with a friend. In 2-player-mode the TNT can be kind of rough and will make sure there is a lot of intense competition going on!
So far, the game is very playable. From now on there will be added more content, more enemies, bosses, maybe weapons and other stuff that goes down well with the testers - so it must produce fun. The levels take place either in the grassy lands or in the caves. I was thinking about adding a sandy (caribbean-like) world.
If you would like to stay up to date with game development and release, make sure you follow me on twitter, check out the blog and track the game right here and stay tuned! Also, I will upload videos to the youtube channel.