Build: DASH 2000 p. 01
Date: March 9th 2019 (production began early 2018)
Official Early Access on Steam: Q2 2019 (Windows, Linux)
---
The build is live on Steam (Windows and Linux) on beta/test branch. Go to the DASH Discord, write !getkey to @botlife in a private message and receive a beta key in a private message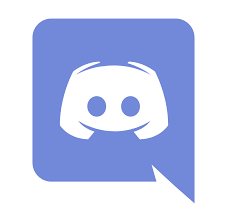 ---
All in all Philip and Jake has simplified the game's UIs, menus and UX while bringing the sprites and backgrounds to a higher level of color and feel. In order to quickly bring the players to the creative or competitive element of the game, the obligatory training part and limitations have been removed.

NEW IMPLEMENTATIONS AND FIXES; DASH 2000 p. 01:
Sploder sleep mechanic: The green enemy with a bomb in its mouth is called the Sploder. It lives a boring life as a guard of King Slap and its only job is to stand around with a bomb in its mouth until a Hero comes by. Therefore it has found that sleeping is the best thing to do while waiting for a hero to accidentally wake it up. If a hero walks (without sprinting) past a Sploder it doesn't wake up. Only if a hero sprints, dashes, lands, smashes a crate or shoots a bullet it wakes up and will prime the bomb by clamming its jaw if the hero touches its sore body. You can now use the Sploder to force the player to walk and not make any noise in certain places of the level.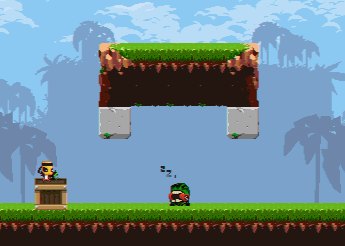 New explosions: Oh yeah! Some new more powerful explosions are now happening!
Rubble: When the heroes slide on walls, rubble will fall randomly and stay where it lands until the hero respawns.
New animations, sprites and palettes: Duffie has had a makeover giving him a more rubbery look where you can see the beak as a warm orange. The Raider has also been painted over with a new warmer palette with greater contrast. Both of the heroes have 'wait' animations which is a cool pose they make in the Heroes Menu when you are shuffling through the heroes to view their bio, stats and weapon.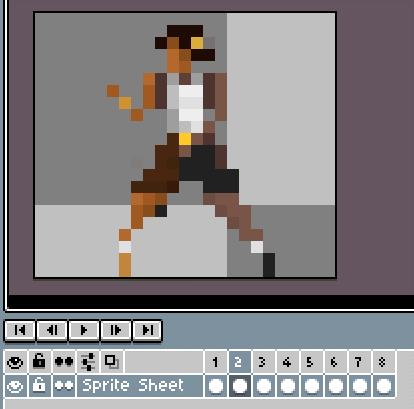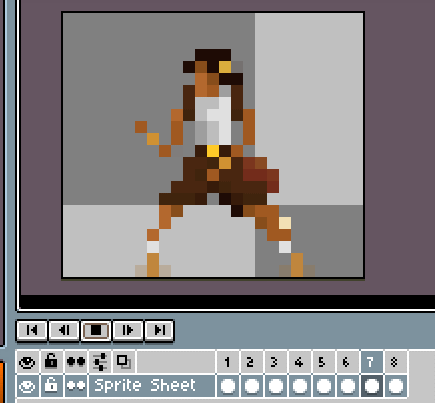 Young Dragon, Duffie and the Raider have upgraded wallsliding animations. They now turn their heads as they grab onto the wall. This along with the rubble looks awesome.
New polished hero face icons.
The spikeboxes now have several different image indexes like the wooden crates giving it a random look every time you play it.
They spikes have been polished.
The Slapper, Spitter and Slapbat have been polished with more colors, frames and polished animation.
The crates have been given better looking sprites.
The goal trigger tile has a new and delicious look to it making it very satisfying to push it.
The diamond (goal tile) has been polished with a better shine.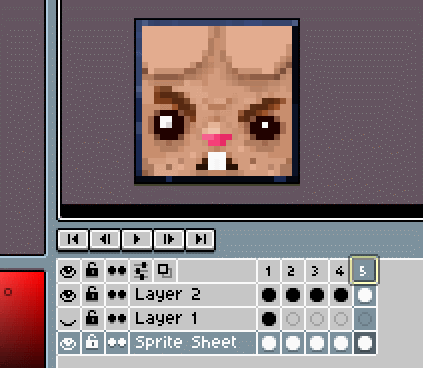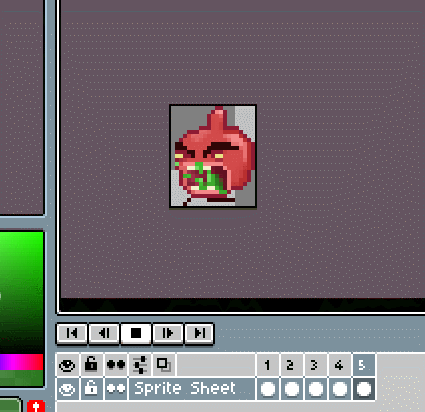 New logo and fonts:
A new DASH font has been added to the game. It is full of action, adventure and speed. It is used when drawing titles on the various lists in the Play Menu. And on the DASH level hub website it is used as the general font.
The DASH: Danger Action Speed Heroes logo has a new look and style. A hero appears in each letter, with a shiny soft gold look to the surface. It is used in the Main Menu and Play Menu.

New effects when acquiring the power ups: When grabbing a magic power ball in a level the hero receives a magic power. A blue ball gives you an extra dash in your combos and a red one gives you the fire dash which can eliminate enemies during dashes.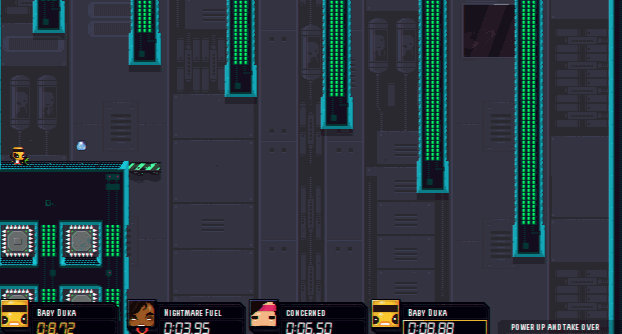 New box art: The box art for Giantbomb and Twitch (portrait format - 600x800 pxs) has been created to show that DASH is a world of different settings, heroes and enemies. And one huge diamond to grab if you're fast enough. Notice the medal Duffie (the character to the left) has around his neck as he is reaching for the diamond. The art appears in the game's splash screen in a low resolution format.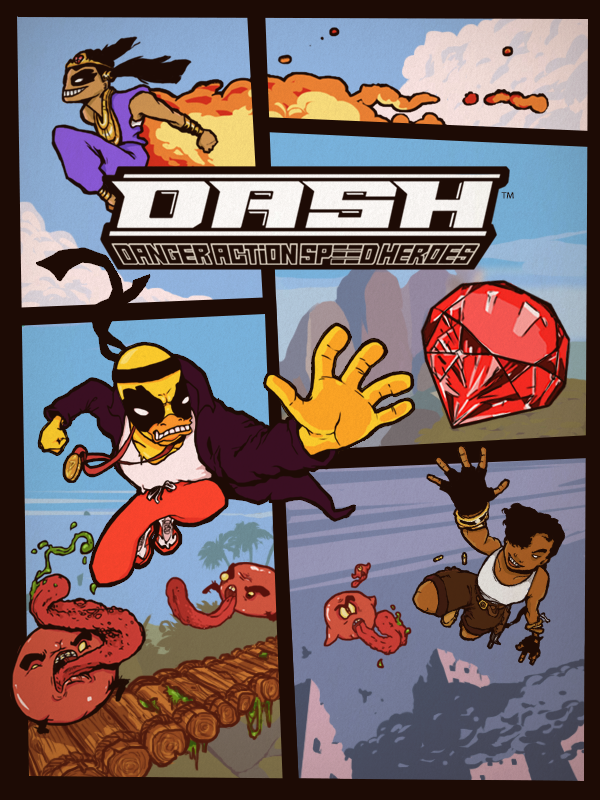 Since there is so much new work on the design the Steam page and DASH website is getting an update as well with new screenshots, capsules and trailer.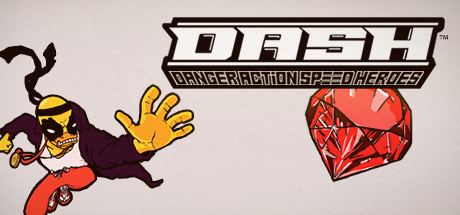 Hero-centric record system: Leary has invented the hero-centric record system. Because he has been storing all the runs individually with information on which hero carried it out, it has been possible to implement the very awesome hero-ased record system. Depending on which hero you are using to complete a level, the time and record is relative to other players' runs with that hero.
Which means that if you are using Cleo you will see a record by Cleo (if one has been set) at the bottom of the screen.
You will also see other heroes' records if the case is that other players dropped by that level and completed it with different heroes. The maximum amount of records appearing on screen is four including your own hero dock showing the timer, ammo, name and magic balls.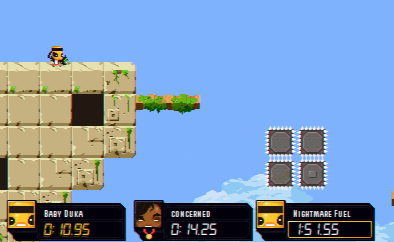 Next Level, Previous Level: In the pause menu you are now able to go to previous level as well as next level. This is useful if you accidently skipped a level and you want to go one step back and retry it. Or if you just want to go through the list of levels in a reversed order.
Level thumbnail in Edit/Share Menu: When you have been working on a level and you save it, the minimap is saved as a small image which is portrayed on the level slot in the Edit/Share Menu, where you view the levels you have created. So it's easier to get a glimpse of what your level is about. If this feature doesn't work, let us know your display settings, and how many screens you are using.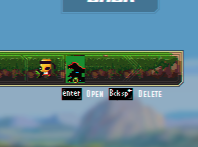 New backgrounds: The jungle theme's backgrounds have been polished. The 'palm trees' backdrop now has beautiful clouds and the 'swamp' theme has a more detailed background.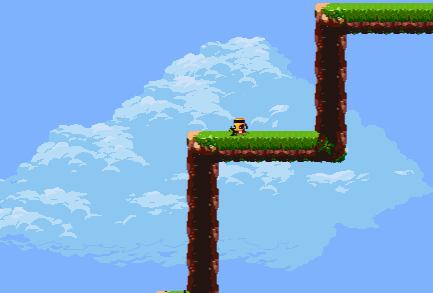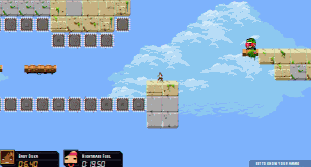 No more silly training: We are going to lead new players to a list in the Play Menu which functions like a tutorial but is instead a list just like the ones more experienced DASHers use. This list will contain levels created to teach new players the game's mechanics (both the game play mechanics but also the level editor's mechanic. The 'Training' room has been removed because it seemed it caused more harm than good and we are looking to implement the 'beginner's levels' in the Play Menu for first-time-players
in the next build.
Enemy hit boxes: The Slapper and Spitter's hit box has been adjusted to be more precise.
New animation on load screen: New stylish icons displaying the 'create, 'connect', 'compete' principles of DASH is appearing on the loading screen
right after the splash screen and right before the Main Menu. The same icons appear in the Level and Play Menus.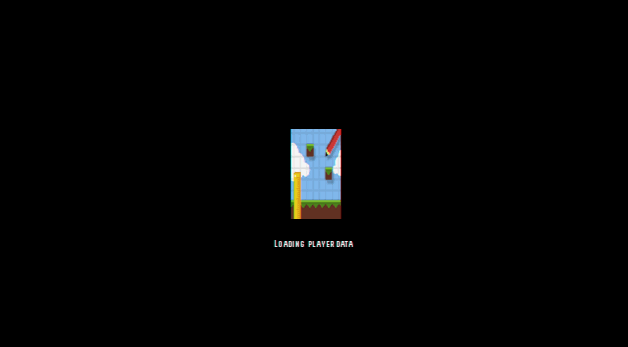 New Main Menu design: The new logo and a more simple and gold-based look has been designed to make the Main Menu more fresh and welcoming.
There are a bunch of random levels which appear every time you return to the menu as the background. We are looking to have a lot of different levels as backgrounds so it will inspire you on your way to create on yourself. Right now it only shuffles through four different levels but eventually it would be fun if there were hundreds of different ones which the program chose from every time you entered the menu.
DASH Level Hub Website Overhaul: Leary has done a lot to improve the DASH level website. Check it out and see how your level is doing! A new display of the rating system as well as more solid style helps present the amazing world of the DASHers' levels.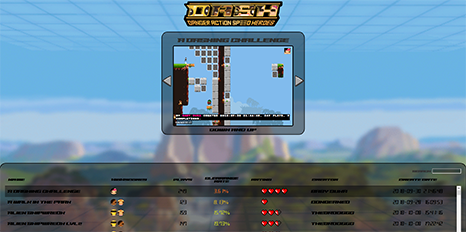 ---
Watch expert DASHer Iskra Buenaventura test out some of the new features (and some kick ass streaks too!) ►
---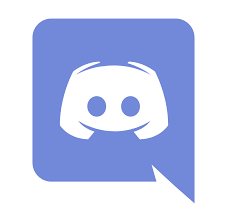 Join the community on our Discord, and receive a test branch key with access to the all the build's features if you like this article and get into some level creation and/or speed running today! WE NEED MORE LEVELS AND RECORDS!
Next step is to fix more errors and design flaws as well as creating a new trailer for the Early Access release plus setting up the new tournament mode!
- Baby Duka & Leary (Copenhagen, Denmark)


babyduka.com | dashgame.babyduka.com