Update #026
If this is your first time, there is already lots of content to explore with updates every Wednesday and Saturday live on Twitch with development and game play. Go follow and get notified as I begin the stream. All development streams are uploaded to the Baby Duka YouTube Channel. DASH stands for Danger Action Speed Hero - the ultimate 2D, low-res platformer creation tool. The official reveal of the prototype was on 1st of February 2018. I'm a solo dev doing all the stuff myself so far ♥ The game is being developed in Game Maker: Studio 1.x
---
Meet the Danger Action Speed Heroes!
In last update I promised to line up the heroes. Here they are. Proud and ready to run! In the Early Alpha four heroes will be ready to use. The idea is to add heroes a long the way.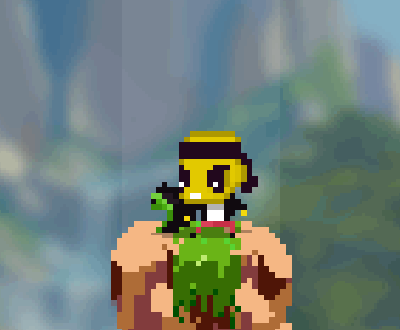 (The Heroes on the Hero Pillar in the Hero Room)
---
Duffie:
Duffie is half rubber duck half human. His nemesis (who you have to select) threw a plasma-morphic-lava lamp into a bath tub with man and rubber duck in it melting them both into Duffie the Hero. With the stamina and courage of a rubber duck and the wee trades of man, Duffie now roams the world to find who melted him.
Duffie was first named by cyrus_bukowsky on reddit who pointed out that he looked like a buff duck. Later DASHer raulrita from the Twitch chat named him Duffie.
Speed: 6/10
Jump Power: 9/10
Dash Power: 5/10
Stand Ground: 8/10
Weapon: Plasma/lava gun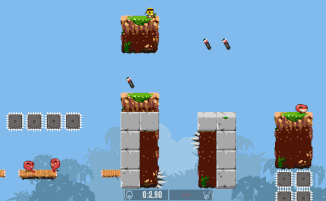 ---
The Raider:
Left alone to die in the jungle, and raised by wolves, the Raider has no fear and is one of the fastest Heroes in the game. She snug on a boat to the nearest metropolis and excelled in Archeology and Biology due to her vast knowledge of wild nature and animals. From there she got herself a big Uzi to bring as she is searching for the nemesis who killed her parents.
Speed: 7/10
Jump Power: 7/10
Dash Power: 8/10
Stand Ground: 5/10
Weapon: Uzi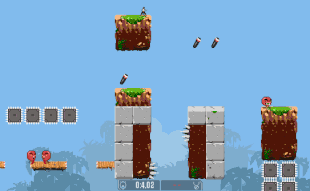 ---
Cleo:
Resurrected from the dead (by accident during a high school science project) Cleo is determined to find her ancient die-hard love who is being held captive by her nemesis present day after 4000 years. Fast, strong, and fearless Cleo will not rest until her love is found. From her diadem she fires beams of wrath towards anyone who try stop her on this crusade.

Speed: 7/10
Jump Power: 8/10
Dash Power: 6/10
Stand Ground: 9/10
Weapon: Diadem of Wrath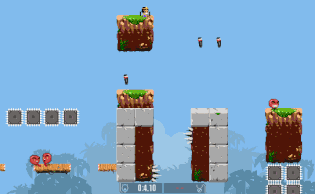 ---
Young Dragon:
A city rat turned monk and martial arts master. Dedicated solely to speed, precision and throwing stars Young Dragon is a mystery but a quick and focused one.

Speed: 6/10
Jump Power: 9/10
Dash Power: 9/10
Stand Ground: 6/10
Weapon: Throwing Stars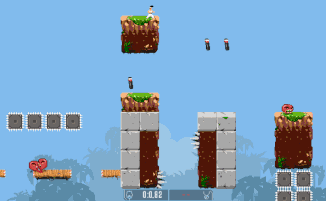 ---
Fixed and Enhanced Spitter:
There were some problems with the Spitter and Slapper on platforms, their masks, and some other stuff. I got it fixed. And also, now it stays in position as it prepares the looger. Before it could turn as it prepared but it made it too intelligent and hard to be around.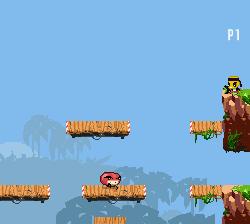 (The Spitter is less intelligent and it fits its attitude of anger)
Getting In Contact With Testers:
I'm still busy getting in contact with the hundreds of new DASHers and finishing up the Early Alpha slice, so bear with me as I don't have too much time for the updates at the moment. Hope you enjoyed!
---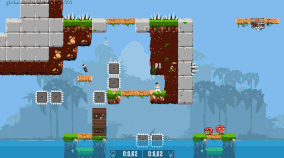 (Young Dragon in action!)
Check out the streams on twitch or follow on Twitter to check out all the updates!
Thanks for reading, once again, and stay tuned!

DASH ON!
- Jake, Baby Duka studio (Copenhagen, Denmark)
NEWSLETTER on the new website ► babyduka.com
Open development stream ► twitch.tv/BabyDuka (Wednesdays 8 pm GMT, Saturdays 6 pm GMT