If you ever thought about being a hero in a video game, this may be just it. By getting Dark Gates Hero Edition, you will become a hero in the game. Hero with name of your choice (subject to acceptance) and custom made avatar will appear in the game. Avatar is made based on your picture so every one can see how brave you are. Below you can see what to expect in terms of avatar: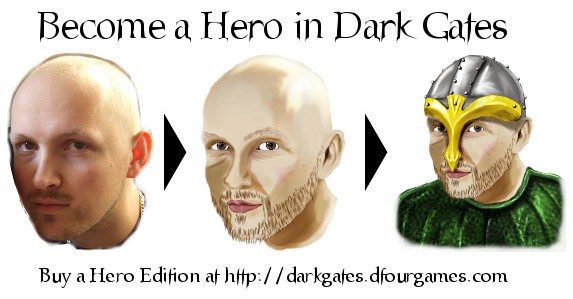 On top of that you will obviously get a game, mention in the credits and a massive thank you. Hero Edition is limited to 10 copies where you can become a hero in the game. Your Hero will be available within next release of the game for all to play.
How to get a Hero Edition ? Just go to Darkgates.dfourgames.com and click the support button. Complete the checkout and wait for email with Desura code for a game and info on how to submit your picture along with the name.
PS. Avatars are made by hand and you have to agree on final appearance before they will end up in the game.