Over the last few weeks I've had the wonderful experience of sharing "Cypress" with you. I want to thank you all so much for your great feedback, your bug reports, and your thoughtful suggestions. As with the development of 2x0ng, it's a real pleasure to be able to communicate directly with players and to involve them in the design and development of the game by integrating their feedback. The latest version of "Cypress" (Version 0.8) is now available with many improvements and fixes on Windows, Mac, and Linux.
Download for Windows: Indiedb.com
Download for Linux: Indiedb.com
Download for Mac: Indiedb.com
Here's a lovely screenshot of the new version; a complete list of what's new in 0.8 is below.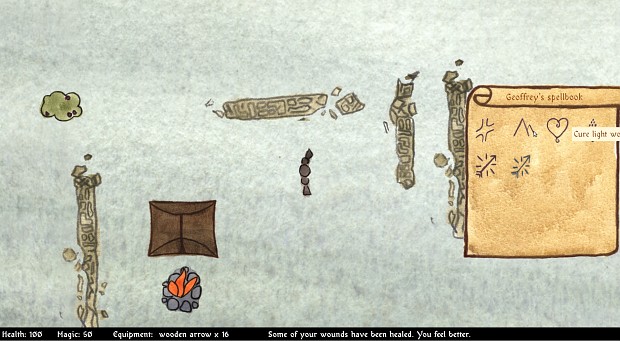 "Cypress" is moving closer to beta with each release. While combat and terrain generation still need work, the game now has fully functional inventory, magic, health, cold/freezing, and hunger/starving systems. Here's a list of what's new in 0.8:
New spell casting animation and magic sounds for Geoffrey.
Geoffrey now makes little footstep sounds when he walks.
Two new musical cues have been added to the soundtrack.
Map is now persistent; you can re-visit locations.
Fixed diagonal scrolling jitter. (The camera still needs work, though.)
Wolves are now more aggressive.
Geoffrey cannot travel or make a campfire when enemies are nearby.
Geoffrey cannot grab faraway objects anymore.
Multiple open scrolls now cascade at the top left.
Campfire is now extinguished before traveling.
Geoffrey now starts the game with two loaves of bread.
Fixed UUID crash bug when dragging.
The spellbook graphic is now a bit nicer.
Geoffrey's animations have been slightly improved.
Several enemy sound effects have been added.
The pause function has been removed for now; the combat system is being reworked.
Water puddles are now larger and more difficult to avoid.
Camping no longer restores much Health.
Fixed a bug where firewood was used even if camping failed.
Hunger and cold reporting levels have been refined.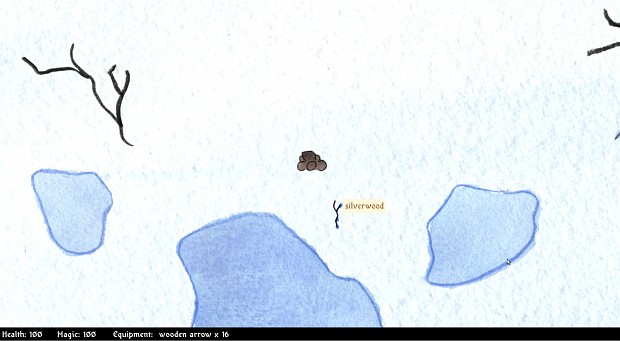 I hope you enjoy this newest version of The Testament of the White Cypress. I hope you will consider playing the game and offering your thoughts on the adventure as it progresses.
So what's next for Cypress? The land of Ildran and its stories will come to the forefront; combat will become more strategic; and new enemies will appear. Stay tuned here on IndieDB if you like the game---I'll keep you informed.