Cyborg Arena UE4 is a fast paced shooter game set in an open world desert full of cyborgs now available on Steam!
Armed with a powerful minigun with the goal of destroying all cyborgs fortifications and antennas in the desert while annihilating as much as possible the horde of cyborgs themselves!
Cyborgs fortifications are consisting of barbed wire, sandbags, sentry turrets and buildings. All of these buildings are destructible and can be reduced to ashes!
As your minigun will chew up a lot of your ammunition, you will have to search for resupplies quite often to keep your ammo count away from zero!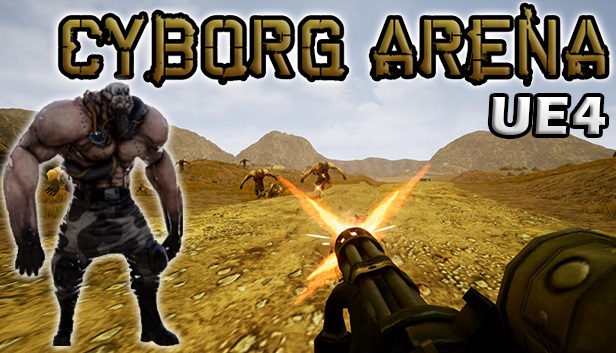 Also as you play, you might succeed to achieve all the milestones and unlock the golden minigun! Along the game are also included online high score and Steam achievements.
The movement of the game is fast and the gameplay is followed with rock music to intensify the feeling of action and the shooting vibe!
Localisation for english, french, german, russian, spanish and simplified chinese were added with on-screen messages tips to help familiarize with the game.