Greetings dear players,
It's finally time to release the new update for Cyber Team Manager! It's been quite awhile since the last update and we are getting closer to full release. I can say with confidence that the main coding for the game's engine is finished. The remaining functions will be completed much faster than before. This announcement will be divided into three parts: Why this update has been delayed for so long, what we've done so far, and what's to come in the next update.
So with that I would like to begin. We were a small and vigorous team, but unfortunately with the end of January, our team was reduced to one person. (just me) This was for a variety of reasons that would be ethically wrong to release publicly. This greatly slowed down the development of this update. Working alone, I had to rewrite all of the match panels from scratch. As stated earlier, the main coding is now complete, with only MOBA related content remaining. (development for other genres will start from the beginning of summer). If you're reading this update and thinking the game will never be released, there's no need to worry. I have over 5 years of experience in designing and coding. I've also recently teamed up with a very enthusiastic UI designer and developed a battle interface. We are currently working on icons for characters and skills (more on this later). In addition, we've been joined by two proofreaders to help correct existing and future grammatical errors. There are many challenges ahead, but I'm very confident that we'll surpass them all.
Changelog:
Reworked match mechanic. (You can now select heroes and fight on the battle screen)
Added panel for picks and bans.
Added panel for battles.
Added algorithm for hero pathing, based on Djikstra's algorithm.
Added formulas to calculate gold / experience gained from kills.
Added 30 new unique heroes.
Modified skills for some heroes. (Temporarily hidden from public build)
Saving and loading temporarily disabled. (Very buggy, incomplete by the original developer)
Added viewing screen for heroes and stats.
Preview of the next update:
Enabling the gain of experience / gold from killing heroes.
Adding heroes gain of experience / gold from farming creeps.
Fixing the heroes' pathing and positioning in maps.
Introducing the remaining 30 unique heroes.
Adding skills to 10 heroes.
Adding a score-keeping system for K / D / A.
Adding a description for every skills.
Adding statistics for each hero.
Adding recommendations for choosing heroes.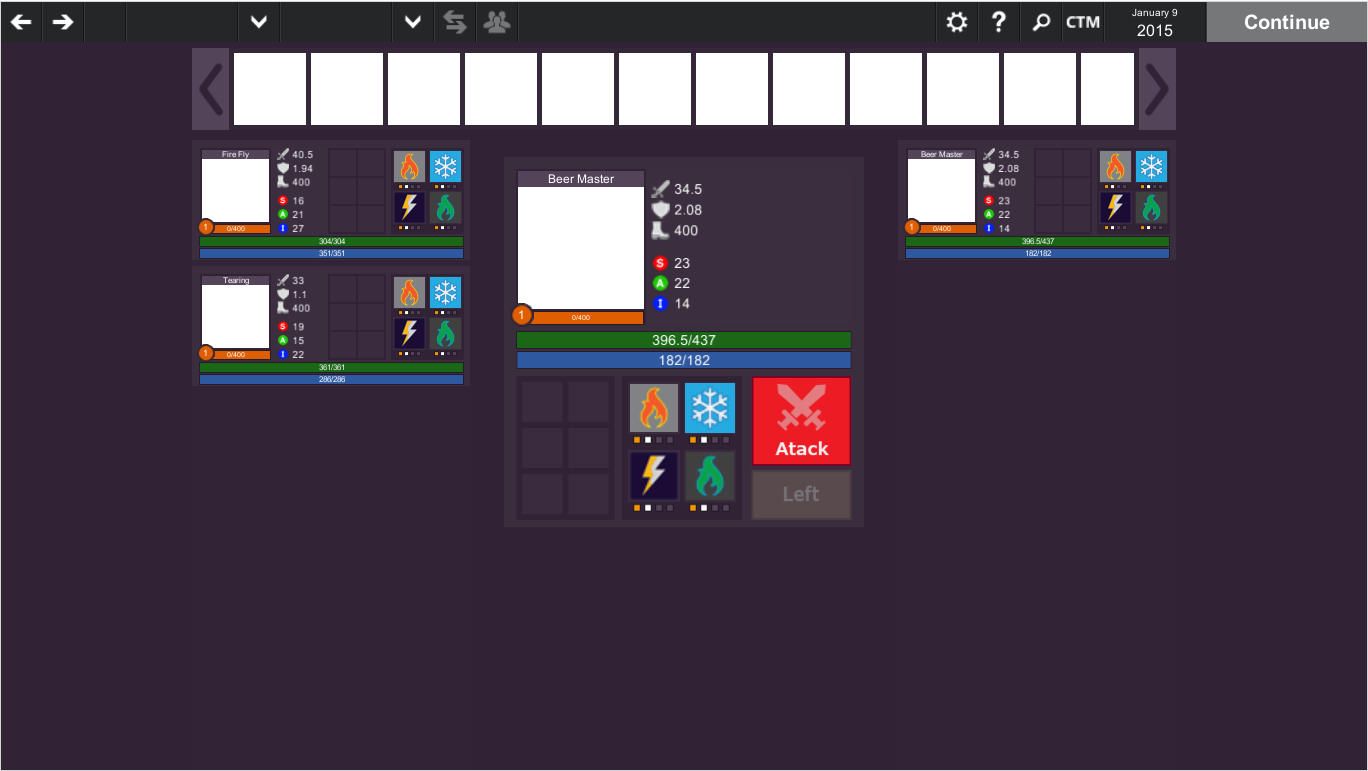 I'd also like to let you know that I've private my profile in order to avoid having to deal with attacks from haters. :) Nevertheless, I'm always open to constructive criticism or suggestions. (e.g. we received an email from one of our players, Matej, who did some research and made suggestions on how to improve the game) The easiest way you can reach me is via Twitter, which I check 5-10 times every day.
email: cyberteammanager@gmail.com
Twitter: @CyberTeamManage
Sincerely yours,
The Tambourine Team