Hello dear players,
Another month has gone by and a new update arrives. As I said, it was completed much faster than previous one. Continuing at this rate, the next update will be in a month or so. It was a very productive month in which we've added many new features. We've also refactored the code which splits the game into separate modules, decreasing the overall development time. The next update will focus on teams, positions, and UI changes. If we can continue to work at this pace, then a playable version should be released sometime in June for you to enjoy.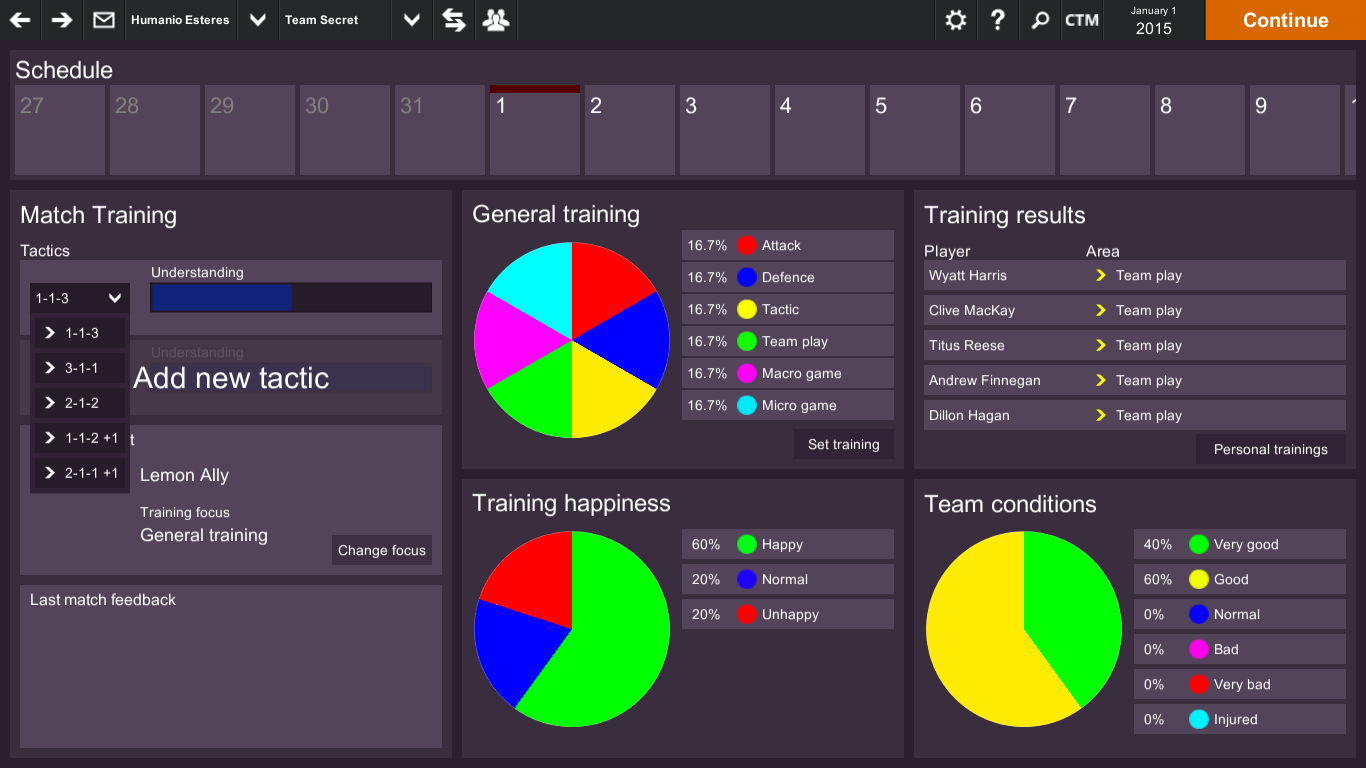 What we've done:
Added the training panel


You can select different ways to train your team and see how well it was received
You can see your match schedule for the next 9 days.You can set the main training focus
You will see how much your players like the training
You can also set the personal training for each player
And can see your team conditions

In the fight screen when HP decreases, then the bar decreases too
In the fight screen when MP decreases, then the bar decreases too
When you don't have enough mana, you can't cast a skill
You can't cast a skill if it's inactive or before you learn it
When hero is stunned, it displays in the aura panel
Each round heroes replenish their health/mana regen based on their str/int attributes
Each round heroes receive the amount of gold/experience based on their role in the team. (farming attribute, etc.)
During a fight when the hero is killed, the killer and assisters take an amount of gold based on their level, net worth, victim level, victim net worth, etc.
In the fight screen when you hover your mouse over a skill, it shows the skill's description if available
Added spells for Earthquaker


1st spell. You stun the nearest hero if in range, affected by your positioning attribute.
2nd spell. Temporarily increases damage by a percentage, scales with level.
Ultimate. Waves of damage hit all enemy heroes within range. The number of heroes depends on the player's positioning attribute.

Added spells for Orc Chief


1st spell. Aggro enemy heroes to attack you.
2nd spell. Gives bleed to enemy hero.
Passive. When attacked, the orc has a chance to hit back.
Ultimate. Smashes enemy for a large amount of damage.

Added spells for Shadow Assassin


1st spell. Damage and reduce enemy hero's attack speed.
2nd spell. Basic attack hits twice instead of once. Adds extra attacks scaling with level.
Passive. Chance to dodge attacks.
Passive. Gives critical strike chance.

Changed how heroes are displayed in pick/ban panel. Heroes on the panel are split into radiant and dire sections by their nature. Note that this is only a cosmetic adjustment and you can still pick heroes from either side.
The KDA stats taken from matches are shown on the home screen.
When the match is over, teams are awarded (or deducted) an amount of pennants (fans) based on their playstyle, win rate, team play, etc.
Added some dispersion to the match screen when heroes move through the battleground for easier viewing.
Added jungler position.
What we plan to do for the next update:
Add more heroes
Add skills for more 10 heroes
Fix problems with viewing positions. Fix hero positioning on the map.
Add position selecting screen for selecting hero positions.
Refresh the UI for the manager panel, match panel, position panel, team panel, and transfer panel.
Add heroes statistics panel.
Also will be changed positions select at all It will be depends on which tactics you will use and train.
Rework teams, change names, and give them logos.
Add tournament bracket for each tournament.
Although this list is shorter, the features are more complex. We will also look to fix common issues with graphics and text, so don't miss out on us. The next update will be near the end of May 2016. After that, we'll begin working on the match mechanics. After we've finished, you'll be able to open Cyber Team Manager and see the vast improvements we've made to the early access version we released last winter. We hope you enjoy the game!
If you'd like to share your thoughts or ask any questions about the game, please contact me here:
Twitter: @CyberTeamManage
Sincerely yours,
The Tambourine Team