I would like to tell you a short story about our team. Each game has its own story and so does the team. As «Cuby the Game» is our first game the story of it is much in common with our team story. So we can start.
Once in the early spring when the spring term in our university is almost over I am talking with Diana and we decide that it will be very cool to create a game. As a result of two days of discussions we have reached the consensus.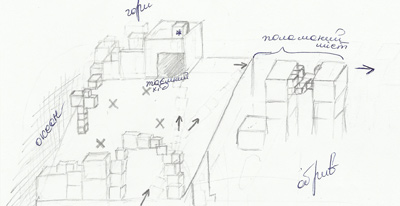 All we knew then that the game would be about the world of cubes. While it would be adventure it also should be a love story between cube-boy and cube-girl. That time we couldn't even imagine the world we would create soon.
The time passes. We are busy so we don't start creating game as we don't have time. The idea is alive but postponed. Two months later everything changes. We are to run team project for one month. So we find three more mates and starting amazing process of creating our first big game. Creating a first game is almost like doing a miracle by your hands.
When you have tones of ideas and only one month to complete something playable is such amazing time. You are free to create the world you want moreover nobody can interfere you. There are some complications as only two of us have already tried creating games and none of us know how to use 3D modeling software.
As somebody really wise have said: "The University should teach students to learn fast". As a result in two weeks we have already known how to use all software we need also we have already had a physics of the game written.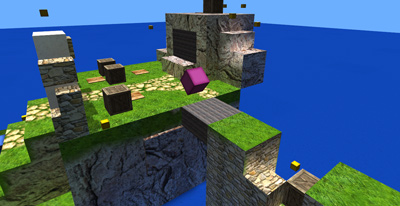 So in two more weeks we are finishing our projects with playable beta. Then we have some time to relax and have a holiday so today we can work hard to fix bugs and be ready in August to release the game.
If you like such story we hope it would be interesting for you to know more about the process of development. Just put your questions in the comments and we will try to answer all your questions.