A new fix patch v0.1.1 has been released for tutorial improvements and other fixes. We want new players to understand the game mechanic before quick-quit. You can see the change log below.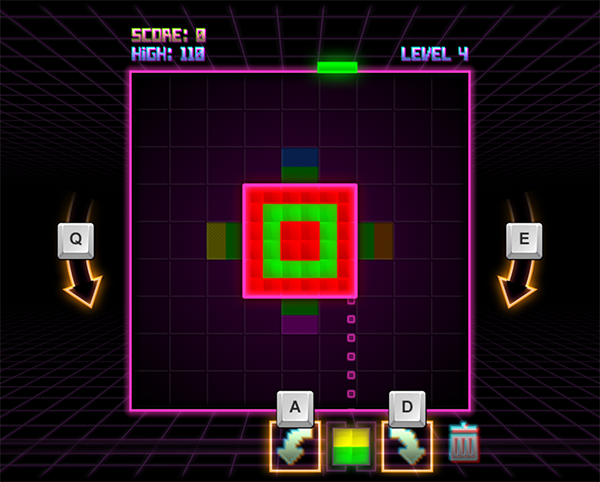 For novel players, we highly recommend to start using gamepad. It's easier to start playing. The keyboard & mouse are recommended for master players.
Moreover, we recommed to map the gamepad by this way: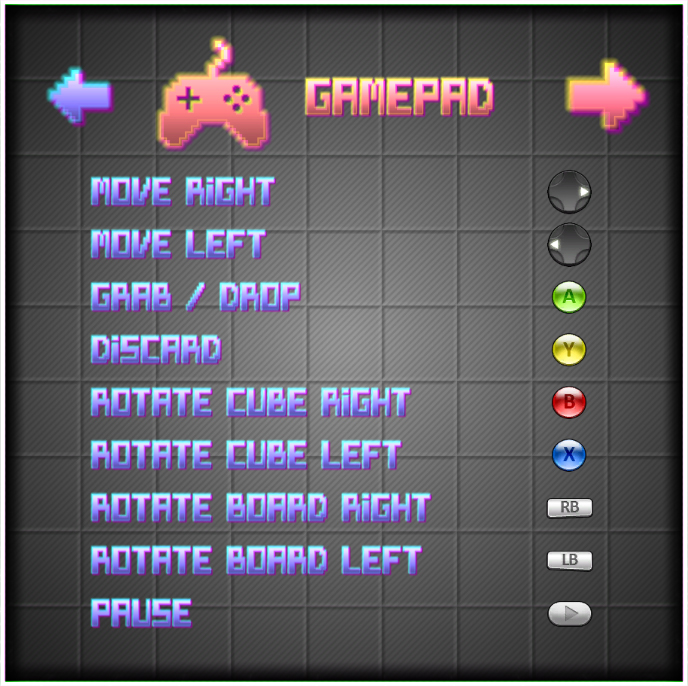 REMEMBER TO VOTE US ON STEAM GREENLIGHT!

CHANGE LOG:
[ v0.1.1 ]
Added a popup caption with player controls for first 20 levels, (excluding tutorial levels).
Added keyboard and gamepad control to the focus of redefine keys window.
Added an exclamation icon to alert the danger of game over by off board.
Added a label for version number at Main Menu screen.
Now the position guide (mobile points line) is also shown for controls with mouse and the parking follows its movements.
The tutorial has been improved. Now it is cleaner and fully guided.
The rules for cubes generation have been tweaked slightly in order to keep the good flowing of gameplay. For same reason, the "Cube Combo" can be broken by time only.
Hidden "Select Level" option at Main Menu for new players.
Game Over screen's background have been modified to be like Pause's.
Fixed a bug with detection of "Unsolvable Level".
Fixed some bugs related with Touch/Mouse controller type.
Fixed an audio bug related to the start of tutorial level 1.
Fixed a bug which caused to launch cubes from non catchable positions so the game over was unavoidable, (like occurred in level 13).
Fixed mouse wheel control at Select Level menu.
[ v0.1.0 ]
First playable demo release.