Hey and hello!
It's really been some time. Actually, I wasn't really away at all, but took a little break in December, spend the time from January until now, to really work a lot on Crystals Of Irm and was allowed to participate in a three-week accelerator programme with the game. In any case, it's nice to have you back, because there's a lot to report.
What's new with Crystals Of Irm?
The game is now so well planned that I have clear tasks ahead of me. That means the scope is now clear, but also important game design questions are clarified and the general focus of the project is now set. What has also become clear is that gameplay is the main focus of COI – specifically the battle system. You probably guessed it already and guessed right, a major part of my time on COI was spent on the battle system again. I can say that I am now really happy with it and that it offers enough possibilities to make encounters fun and exciting.
This is what it looks like now.
---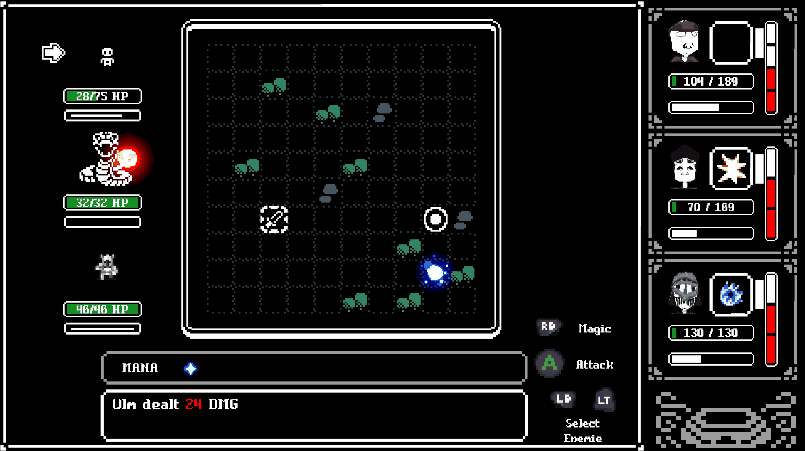 ---

In the right part of the picture you can see your three heroes – below the HPbar, you can see the move counter of each hero. When it is full, the hero throws his currently equipped weapon onto the battle grid. When this weapon is triggered, the corresponding damage is done to the enemies. To the right of the hero portrait you can see the equipped skill of the hero. This is triggered as soon as the move counter of the respective hero has been full x times – the display next to the skill symbol shows how often the move counter must be felt. Each hero can equip a skill, which is then available in battle.
---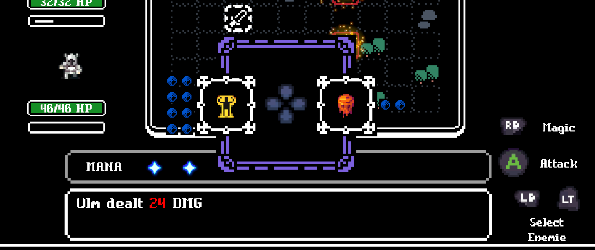 The wizards are able to carry wands instead of swords or bows. These wands release one mana onto the Battle Grid when the Move Counter is full. When this is triggered, the group is credited with one mana point. With these mana points, the group can activate spells. There is now a new, much more active menu for this. It looks like this.
The group can equip up to four spells per battle.
In each battle you have the following at your disposal:
3 hero skills
up to 4 spells
Next steps
Hats off if you have read this far!
What happens next. Hopefully three things..
I am in the process of preparing everything for a first official playtest. I think it will be done on the Discord server and you can sign up for the playtest program there. More info will be available on the server soon.
Second – get ready to add another game to that mysterious wishlist so many are talking about.
Third – keep your fingers crossed that Crystals Of Irm can go on a little trip in August
That's it for today! I hope you had some fun and learned something new.
Until the next post
David // LotsOfStuff