Building on over a decade of continued engine development and refinement, CRYENGINE is used by AAA and indie developers alike to build some of today's most ambitious games, while remaining 100% royalty-free to allow developers to reap the rewards of their hard work
CRYENGINE V launches today with a "Pay What You Want" business model, offering developers everywhere total access to the engine's feature-set and full engine source code for a fee of their choosing, and with no obligation to pay royalties or additional service charges. Users who decide to make a contribution for utilizing CRYENGINE V can allocate up to 70% of the sum to Crytek's new Indie Development Fund – a grant program that will see Crytek directly supporting promising indie projects around the world.

The latest evolution of CRYENGINE also introduces CRYENGINE Marketplace. The Marketplace will enable developers to access individual assets from Crytek's own library, as well as thousands of materials, sounds, and 3D objects created by the CRYENGINE community and other trusted vendors.
If that's sold you on trying the engine, you can grab it here for free, or opt to donate back to the community (the funds of which will be used to fund other indies) or directly to CRYTEK to fund ongoing engine development.
What's Included?
The latest version of CRYENGINE with all its features
Full Engine Source Code
Full commercialization for any games created
100% royalty-free
Access to all supported platforms
Primed for VR development
Buy and sell assets on the Marketplace
Access to Learning resources
New Features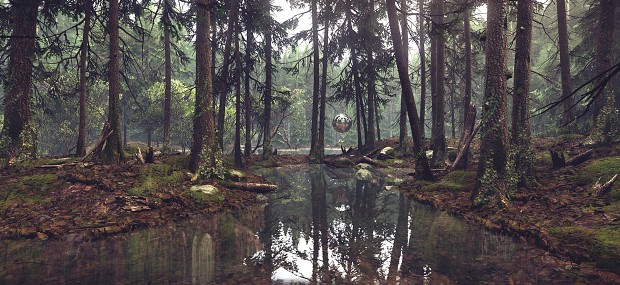 New Low-Overhead Renderer
CRYENGINE V comes with a completely redesigned and rewritten core renderer that allows submitting draw calls with minimal overhead, leading to large performance gains under DirectX 11.
DirectX 12 Support
Microsoft's new DirectX 12 low-level API allows developers to get tomorrow's performance out of today's hardware. Thanks to CRYENGINE V's newly introduced DirectX 12 support, developers will be able to get the most out of CRYENGINE's famous performance and state-of-the-art visuals.
Going all in on Virtual Reality
2016 is the year that the VR revolution will begin, and we want to ensure that CRYENGINE developers can be at the forefront, no matter which device they prefer. That is why CRYENGINE V adds support for PlayStation VR, OSVR, and HTC Vive, in addition to our existing Oculus Rift support.
With a new Particle System that will optionally offload particle management and processing to the GPU, developers can achieve significantly higher particle throughput for expensive effects, further improving performance while building stunning worlds for gamers to explore.
New Volumetric Cloud System In CRYENGINE V, we introduce an entirely new cloud system that enables users to create stunning volumetric clouds that integrate seamlessly into CRYENGINE's advanced lighting models, with performance that can even fulfill the strict frame time requirements of VR apps.
CRYENGINE is now C# Enabled
With a new CE# Framework, anyone who knows C# can immediately start scripting in CRYENGINE V. Hot reloading DIIs allow for real-time development, and you don't have to restart the editor to make changes to the code. We've also added VR editor integration for in-app development.
Check out the other features in the release notes here.