Welcome to this here blog post! Many people have pointed out how much they like the colorful graphics of Mushroom Crusher Extreme, so we decided it's time to discuss the game's visuals! We'll be posting a multi-part tutorial-type series about MCE graphics and visual artistry over several weeks. And where else to begin if not at the beginning? Today we'll have a little retrospective view on where the graphics of MCE began and how they've been changing over time.
It all began, as you might already know, at Global Game Jam 2011. As GGJ is about making a game in 48 hours, we didn't have very much time to dedicate to the graphics (or anything, really). It was up to Tuukka, myself that is, and Lasse, who you might remember from our MCE Origins post. With the lack of time, we had to make something simple. Both me and Lasse were already somewhat experienced with pixel art, so it seemed like a natural choice. We both just gravitated towards a cheery and colorful look. It pairs nicely with the theme of extermination, doesn't it?
Over the entire development cycle, MCE graphics were no one-man deed, indeed. Altogether, I'd say the graphics work was shared between me and Lasse at about 50/50. We'll get into more detail on that once we look deeper into every graphical aspect, so you don't have to get all sassy on me for something Lasse made!
A lot of the graphics used in the current version are actually recycled from the game's many previous versions. This was possible because we still use the same tile size we settled on in the Assembly version, so it was easy to bring back all the old graphics we need while adding new ones to the mix. Wouldn't want our hard work go to waste! None of the older versions were officially released either, so I bet you wouldn't have even noticed!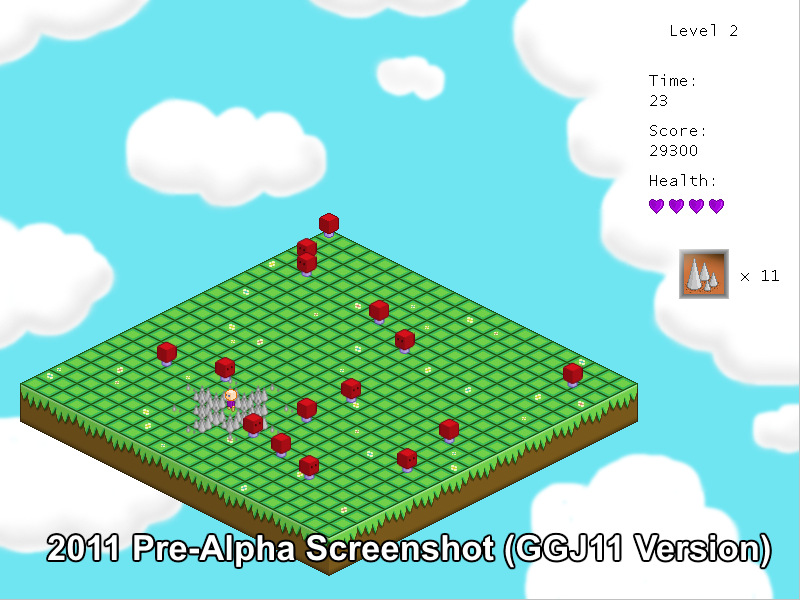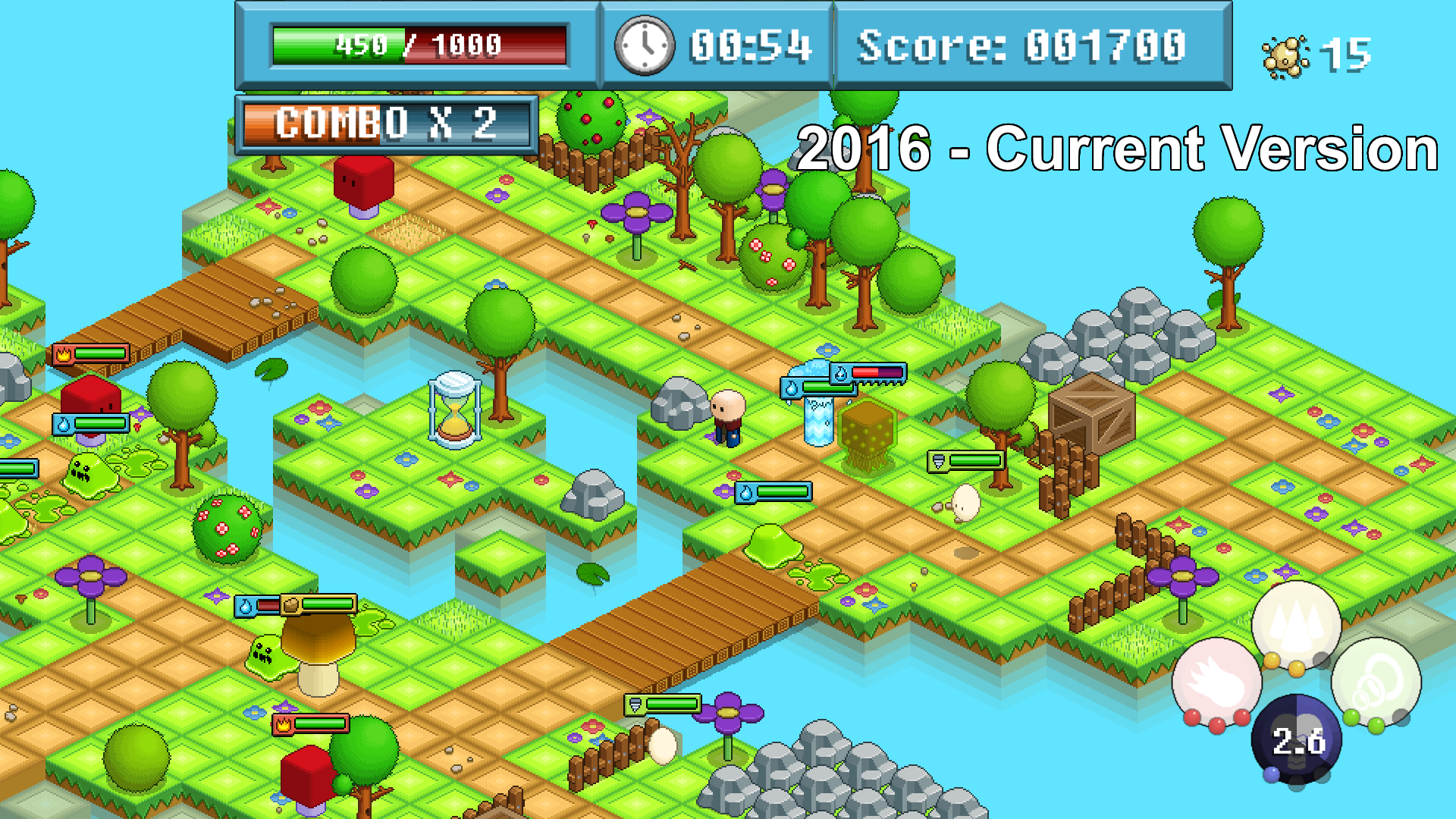 From the original, Global Game Jam version, not much of the graphics have survived to the current version, though we did reuse some ideas for the later versions. All graphical elements used to be much smaller and there were generally less of them. Since then the mage's glam purple shirt changed to a classy robe and the islands have sprouted with numerous plants. Also, we said goodbye to the cloud-dreamy background. Things got serious.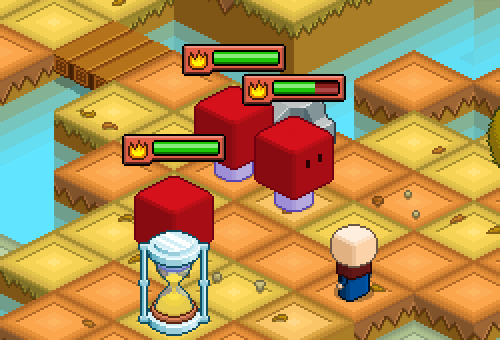 The following Assembly version already had some graphics that are still used today. The Shock Wave spell, several enemies and a slimeball level obstacle are still used pretty much unchanged. A ton of current graphics also had their base in this version, such as Zenon, Spike Crush, Fireball, the Mad Squirrel and many level elements. They all received major edits and/or additions. If you play that version, you'll notice that things got a lot more lively and detailed. For example, rocks got a less depressing color scheme and highlights, while buds got an all new "breaking" animation.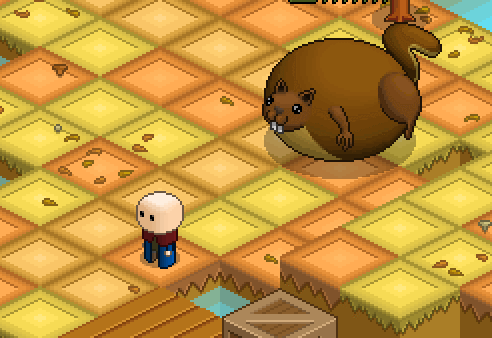 Some of the landscape elements might look familiar, but other than that, the look of the magical Pratumea archipelago had been completely reworked. And for the better!
And then Unity engine came into the picture and some big changes happened. MCE had a brief experimental period of 3D! All the level graphics had to be redone. Hence, none of the novelties introduced in the first Unity version made it to the following versions.
However, the version inspired some graphics revamped in 2D in the later versions, like Hydro Jet, tile decorations, houses and flowers.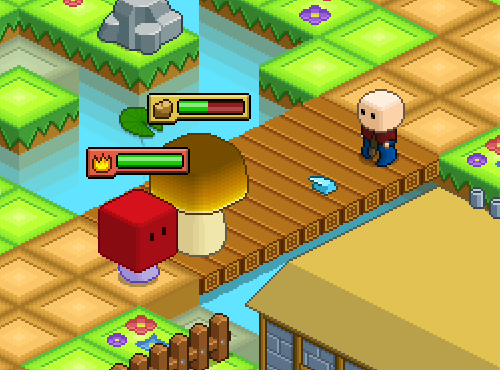 And this is the big one, the Mayhem version (previously known as Back-to-Arcade). A lot of recycled graphics came from here. Level elements, enemies, spells, Trinkets, menu and HUD graphics, you name it. Some graphics, like tile decor did require a little bit of refurbishing (in this case a built-in shadow removal), but most remained unchanged. With that said, the newest version still needed a lot of brand new graphics, like all the seasonal variation, a few enemies, some Trinkets and minor additions to the recycled graphics.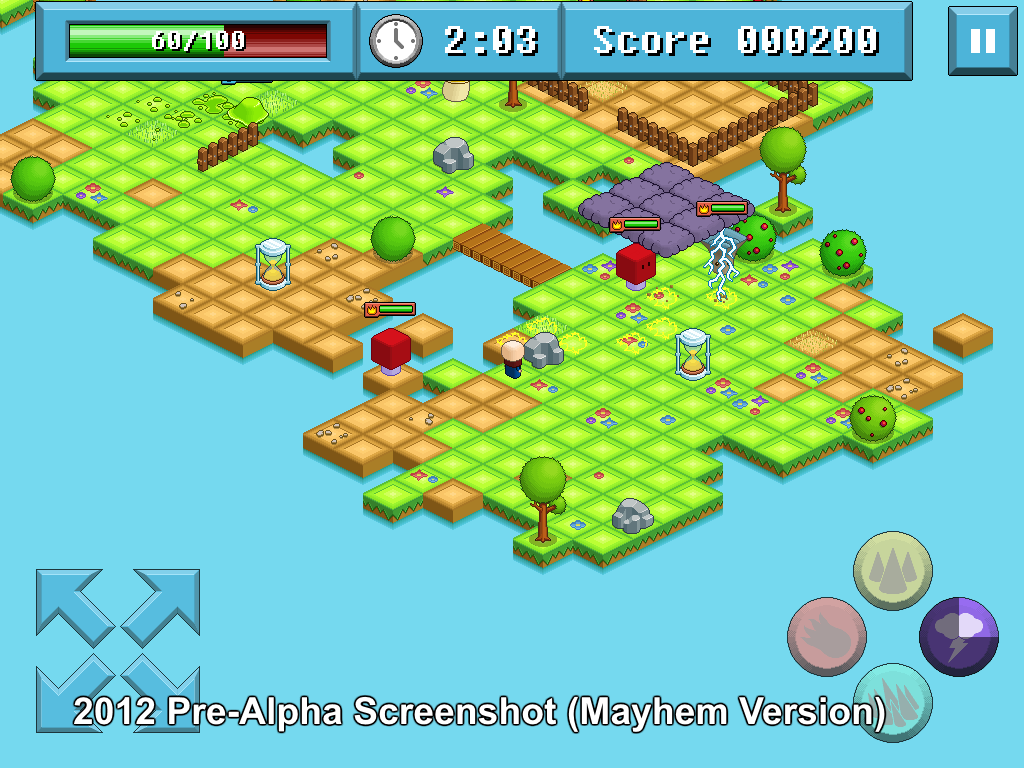 That's it for the introduction part! Next time we'll have some more practical stuff, guiding you in more detail through the process of creating MCE graphics. Stay tuned!
Check MCE in all it's graphics glory in our demo.
Also, we got Greenlit! Thanks to all of you for your support!