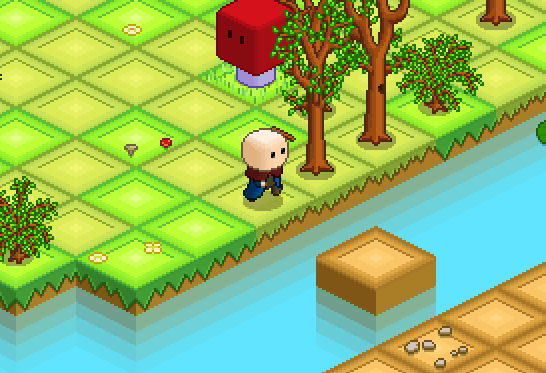 Hello and welcome to our second devblog post for Mushroom Crusher Extreme!
This week we will give you a brief tour through the MCE history – the long and winding road that brought us where we are today. So, grab a drink (a soft drink, of course! After all, it's only Thursday), sit back and enjoy. It all began in…
Winter 2011
Global Game Jam
Team: Tuukka (art), Lasse (art), Ville (programming), Jani (programming)
The four of us were game development students in Kajaani University of Applied Sciences, Finland, and we were a team for the Global Game Jam. We had no dedicated designer and the ideas were springing out like mushrooms from everyone in the team. The theme that year was "Extinction", but extinction isn't too far from extermination, right? And if you exterminate, why not crush..?
The range of enemies at the time wasn't limited to just mushrooms, but mushrooms went well with crushing, and "extreme" just sounded like fun, hence, the game got its name. Overall, the basic idea and mechanics of the GGJ version were quite similar to the MCE we have today, except it was much, much simpler - one spell, one basic level. Check it out at the GGJ website.
Summer 2011
Expanded Demo
Team: Tuukka (art, design), Lasse (art), Matti (programming), Viivi (design)
Through the spring, we'd been developing the game and by summer it had expanded into something much bigger than we originally planned. MCE was ambitiously turning into a story-driven adventure game. The story told of Zenon, the apprentice magician, whose native Pratumea island is invaded by hideous monsters. After freeing Pratumea, Zenon's journey expands to the neighboring islands.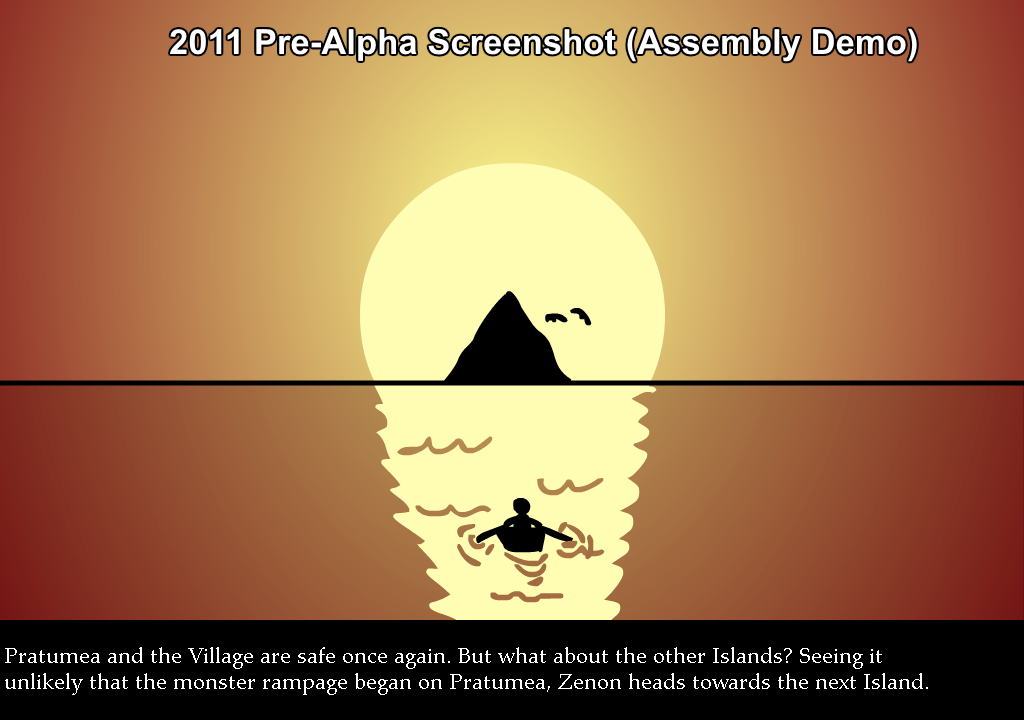 The story-driven version became our focus for the following year. We'd been working on it as a part of our gamedev studies, learning from the game and putting everything we learned into it. As it was strictly a study-project, we had to make the first, out of many to follow, team changes to meet the requirements. Unfortunately, we could not have everyone we wanted on board.
Our goal was to present the demo of the new and expanded Mushroom Crusher Extreme at the Assembly Summer event in Helsinki. The demo was developed for PC, using Kajak3D game engine - best game engine that has ever been granted to the mortal kind, developed by the students of our university.
MCE came 11th in the Assembly competition (sounds better when you don't know it's out of 16). Here's the trailer:
You can download the version and try it out here.
Autumn 2011
First Commercial Attempt
Team: Tuukka (art, design), Lasse (art), Matti (programming), Viivi (design), Jani (programming)
Even though we didn't win the Assembly competition, the project went well and we decided to attempt molding MCE into a commercial product. If succeeded, Mushroom Crusher would be released under Kajak Games, our local cooperative of game development students. The project kept expanding, as we decided to bring arcade mode, abandoned since the GGJ-version. Now MCE was supposed to have both story and arcade modes.
We had yet more staff changes and a game engine change. To increase market potential, we knew we would need to develop the game for multiple platforms. Thus, we had to switch from Kajak3D to the Unity engine, for the ease of use.
As it often goes, such changes brought in some difficulties. Up to that point, the game's graphics were all 2D pixel art and, when switching the engine, we found that Unity had difficulty handling it. Thus, all the environment graphics had to be redone in 3D.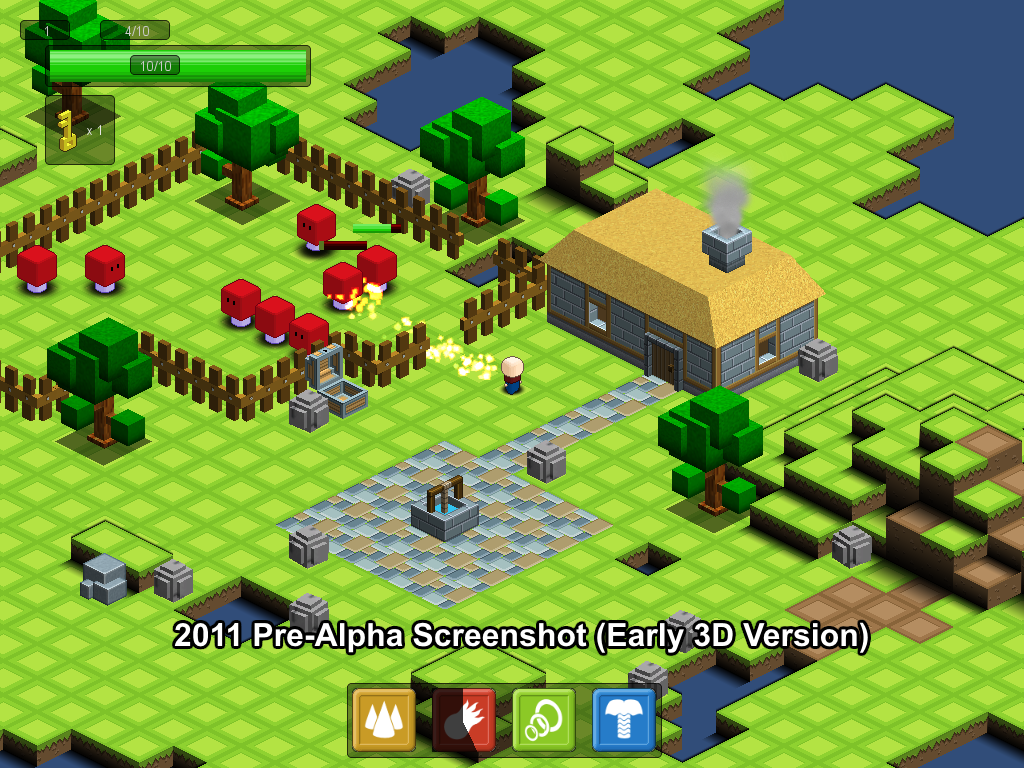 Unfortunately, with all the work put into reworking the game, our efforts were scrapped by the university. For reasons not known to this day, in early 2012, the project was suspended for it not meeting "educational objectives". The work on the game stopped, but only to spring again later.
Summer 2011
Back to Arcade
Team: Tuukka (art, design), Lasse (art), Jani (programming), Petri (design)
That year we were beginning our practical training as part of our studies, which gave us a great opportunity to focus on MCE again. Our time was limited to 6 months, hence, we decided to scale down the project's scope. Some features had to go and the story mode was one of them. Now instead of a story-driven adventure game, MCE turned into an arcade-style high score-driven game.
We managed to solve our Unity pixel art issues, so we stuck with using that engine, as we initially planned. The catalog of enemies and spells was expanding and mostly remained the same to the current version.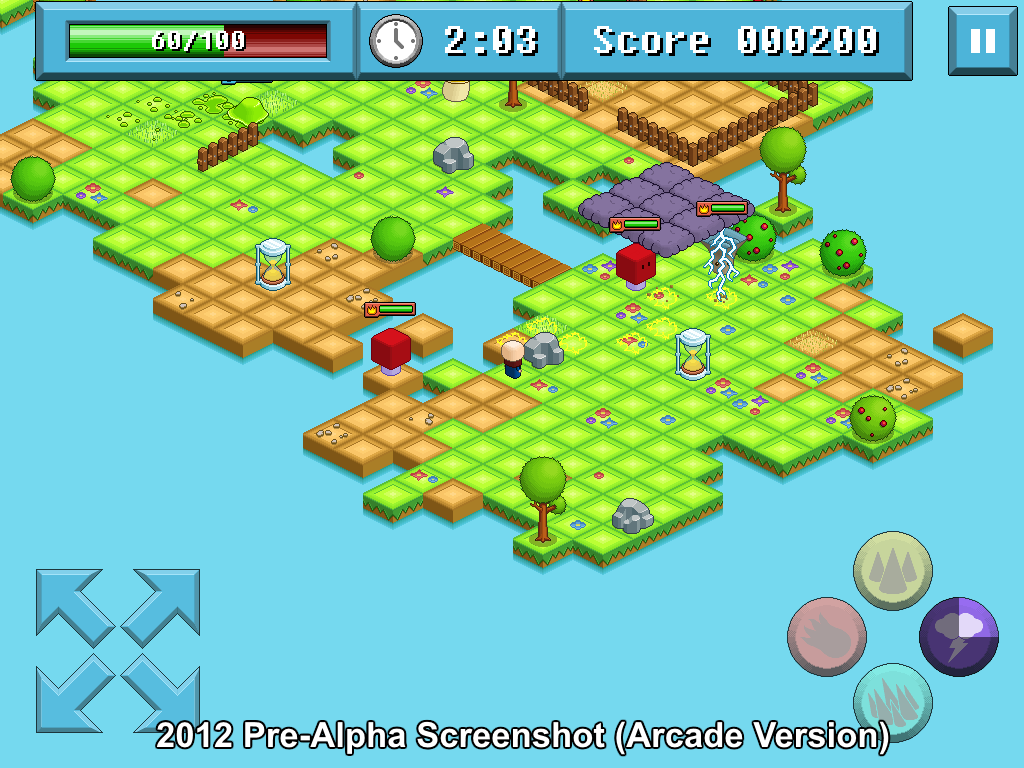 The development was bustling, but even despite scaling the project down, we didn't manage to complete the game. It was time to move on and work on our theses. Once again, the development was put on hold until an opportunity came up. And 3 years later, it did.
Spring 2015
Revival, Current Version
Team: Tuukka (art, design), Ilkka (programming), Ville (sound, music), Lasse (additional art)
MCE got yet another chance, when our local indie studio, Team Jolly Roger, offered to assist with the production and publishing. So, we got working! Among the newest version's additions are: numerous new levels, implemented trinkets, improved graphics, new sounds and soundtrack. Have you grooved to the mushroom-crushing beat yet?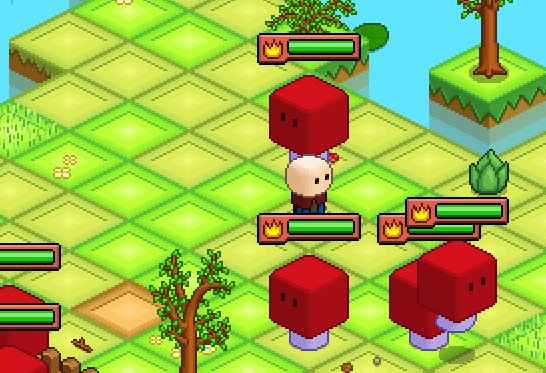 The rest of the story is still being written! We are on the rapid path to releasing a demo and are waiting for votes on Steam Greenlight!
So much for the MCE history. Thank you for reading and tune in next week for more about Mushroom Crusher Extreme's present and future.