The most recent update to Windward expands the Alpha with a fully-functional line-of-sight based Fog of War system that limits the player's sight. Now those tall hills in The Ring serve their proper purpose, hiding the player's movements from other players in addition to the AI.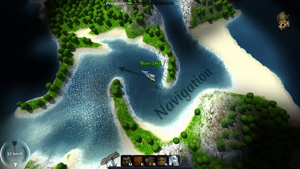 A proper tutorial scene has also been added that should help new players learn the ropes quite easily. In about two minutes it teaches the player by having him perform movement, navigation, combat, repair, and building tasks -- all by simply highlighting the appropriate actions.
Going forward, the focus will be on procedurally generated content. The code is already in place that generates large procedural worlds with up to 8 different factions fighting for territory. Should the player start neutral in one of the contested zones, or should he start aligned with one of these factions, with the quest system adjusting to that accordingly?
Make your opinion known!