The Grokk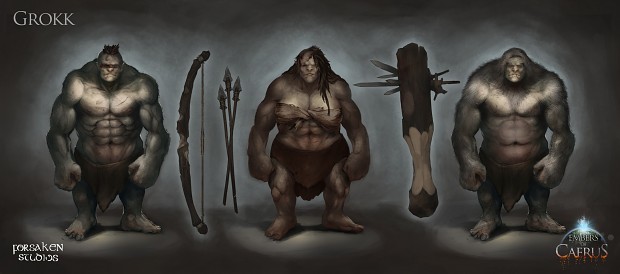 click to view full size
The following is an account of one of the few lucky enough to survive an encounter with an angry Grokk:
The brutes have eaten Yoppa. I think it might be my fault. I probably should have woken him before fleeing our camp. At least they had the decency to cook him first.
When their festivities die down, I begin my return journey to Halfrost. Until then, I dare not reveal myself. Galfrud Sevator himself commanded me to learn all I could of these beasts – my observations must reach him at all costs. Even poor Yoppa.
They call themselves Grokk. In their own tongue it means something like "people". They're semi-nomadic, building villages where game is plentiful, seeking fresh pastures where it is not. The strong rule. The weak obey. This much we learned from the one we took captive, before he succumbed to our interrogation. We left his body for the wolves. In hindsight, that might have been a mistake.
From a distance, Yoppa and I watched their village. I think some kind of religious celebration was underway – the whole place was garlanded with wildflowers, its walls gaudy with dyes. The Grokk elders – furred and massive – sang a slow and haunting song while the young danced. Beasts the Grokk may be, but they are not without their beauty. I confess to having been moved, my eyes smarting with icy tears.
Shortly after that a scouting party must have discovered the body of the one we killed. The mood turned ugly and Yoppa and I snuck back to our camp. I didn't expect them to track us. We are Sevatore, after all. But again the Grokk proved more than the brutes I had taken them for. I barely escaped with my life. Thanks to poor Yoppa.
In the morning I'll head for Halfrost. In the meantime this ice cave will conceal me, I'm sure of it. Sleep will be difficult, but I'll have the songs of the Grokk as my lullaby. There are worse ways to drift off to sleep.