Our lovely CHKNeers have been asking for creatures to carry chests and it's a great idea we couldn't refuse. Now you're no longer restricted by your own inventory slots… as long as you have creatures with ample storage tagging along, that is.
This update also has new wild creature nests to find while exploring, main menu and UI improvements, and more. Check out the notes below, play the new updates, and let us know what you'd like to see next by posting over in our Discord.
And join us on Monday @ 3:30 PM EST for our next dev stream! More details below.
Creatures can now carry chests!
Lighten your load, collect more resources while exploring, or carry enough food for all your friends.

First, craft a chest mount and add it to your creature.

Then place a chest in the mount or tell your creature to pick up a chest using the chest UI or commanding with a whistle.

Multiple chests can be mounted on a single creature but be warned! The creature's leg strength determines how quickly it moves under the added weight.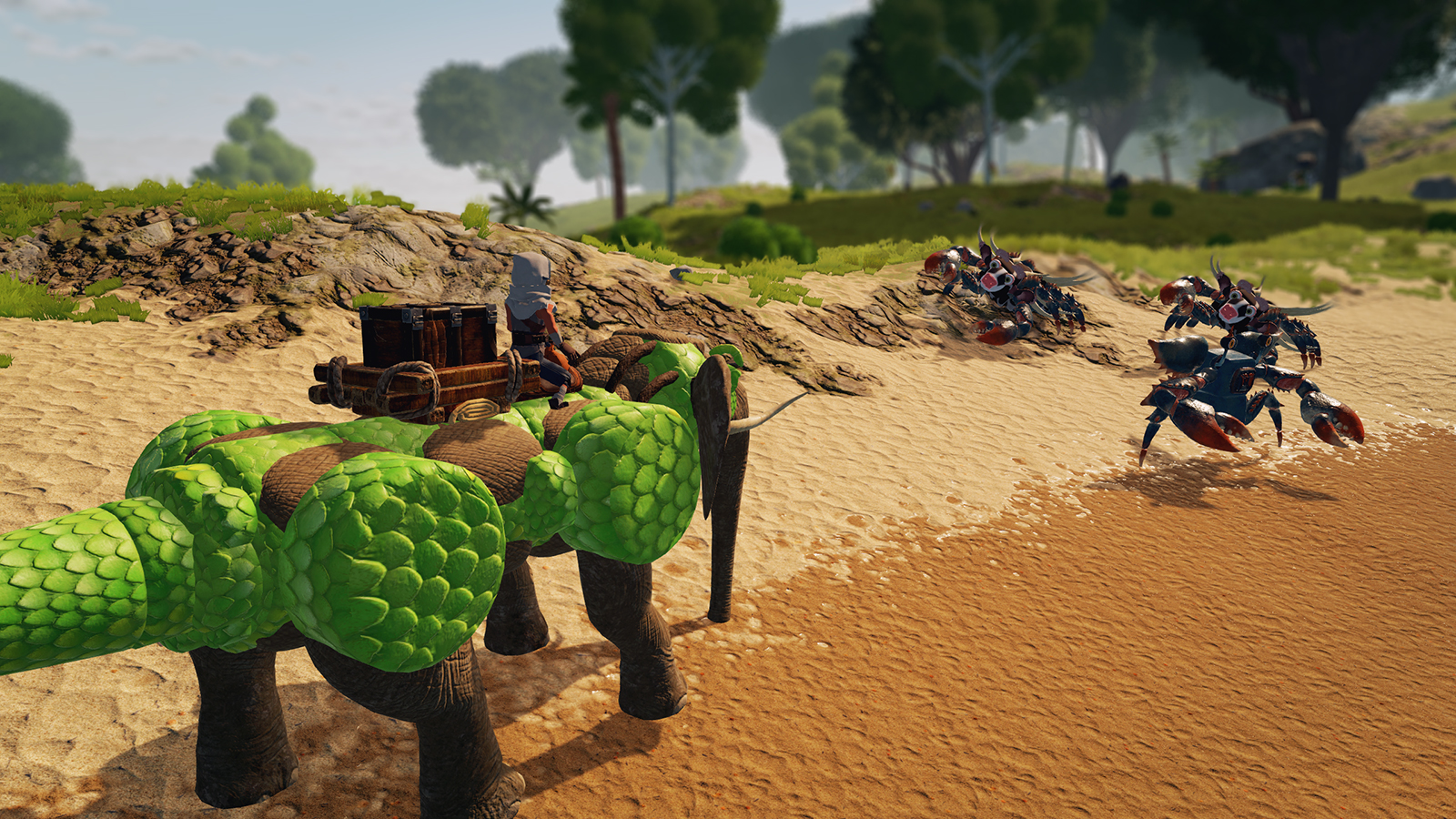 Wild Creature Egg Nests
Eggs you encounter in the wild will now be found sitting in nests, making them easier to spot while exploring.

Nests have a chance to spawn multiple eggs, meaning more chances to find the Life Blocks you're hunting for.

The number of nests that spawn throughout the world has also been increased.
Main Menu/UI Improvements
Added "Create a Creature" to the main menu for quicker access when you're feeling inspired

Added announcements so the latest news is available in-game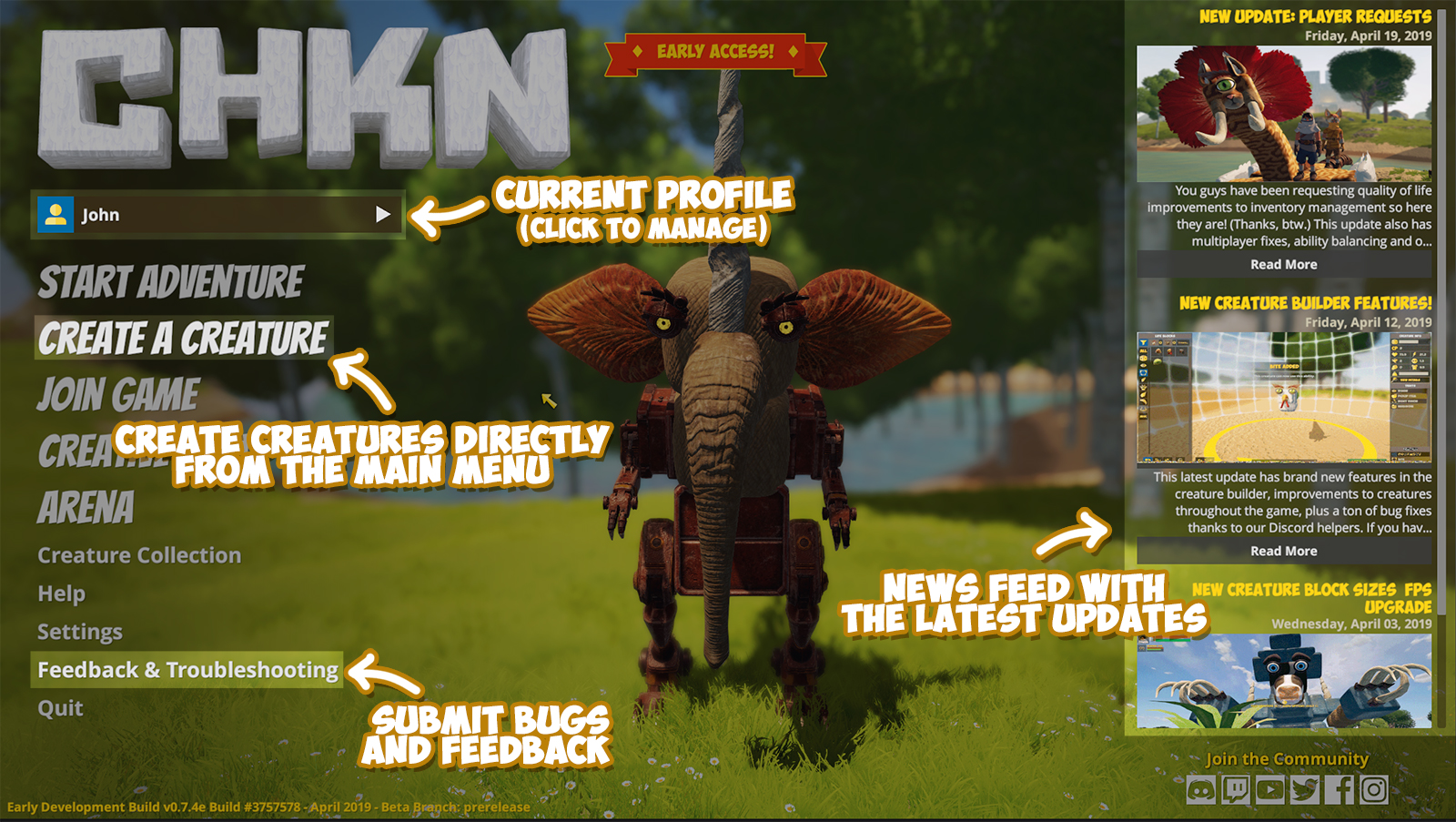 Polished and streamlined profile creation so it's easier to manage your profiles

Removed stress bars from the UI

Streamlined in-game Party screen for easier creature management

You can now have 6 creatures in your party (up from 4)

Creature level is now revealed in the UI

Added the ability to SHIFT-CLICK on the revive screen to spend an entire item stack
Gameplay Balancing
Disabled time-based creature spawning near player built structures.

Changed starvation to no longer cause death. Instead will bring health down to 1 hp.

Tamed amount no longer decays over time.

Adjusted Glass Pane, Alchemy Table, and Vial crafting recipes.

Taming a creature now resets its level to 1.

Added ability to increase creature level by sacrificing Life Blocks.
Other
Polished block-by-block assembly animation when spawning a creature.

Editing creature modes now default with creature interaction items equipped.

Changed save updater to only run before a save is loaded (this prevents long loading times if you have a lot of saved games)

Save updater no longer blocks UI from refreshing.
Bug Fixes
Fixed egg hatching spawn time that was preventing eggs from spawning in some situations. Eggs should spawn faster now.

Fixed infinite loading when continuing from a save.

Fixed a bug causing discovered creatures to be rediscovered.

Will no longer grant taming achievement for untamed creatures.

Fixed save backups from not being created.

Creature collection now displays the correct amount of cards based off of screen aspect ratio.

Fixed certain textures not using texture steaming.

Corrected missing normal and metallic textures on treadmills and workstations.

Fixed a bug with saddles and undo/redo that could break gamestate.

Fixed stuck status effects (stuck electricity)

Creature Animation/Builder fixes

Dynamic bone safety added

Cursor releases to edit orb when new window opened

Fix to end link ordering

Set end link priority when it has the same control block to block facing forward

Fixed siding issues with blocks with offsets (crab legs was most obvious)

Added code to override leg children attachment setting

Fixed siding on cursors
Dev Stream Monday @ 3:30 PM EST
Join Greg and John on their adventures for our next developer livestream. They'll be showing off new updates and probably dying miserably while trying to take down a boss or two. It happens. Bring your CHKN questions for the guys or just come hang out!
Watch on: ❤️ YouTube | 💜 Twitch | 💙 Steam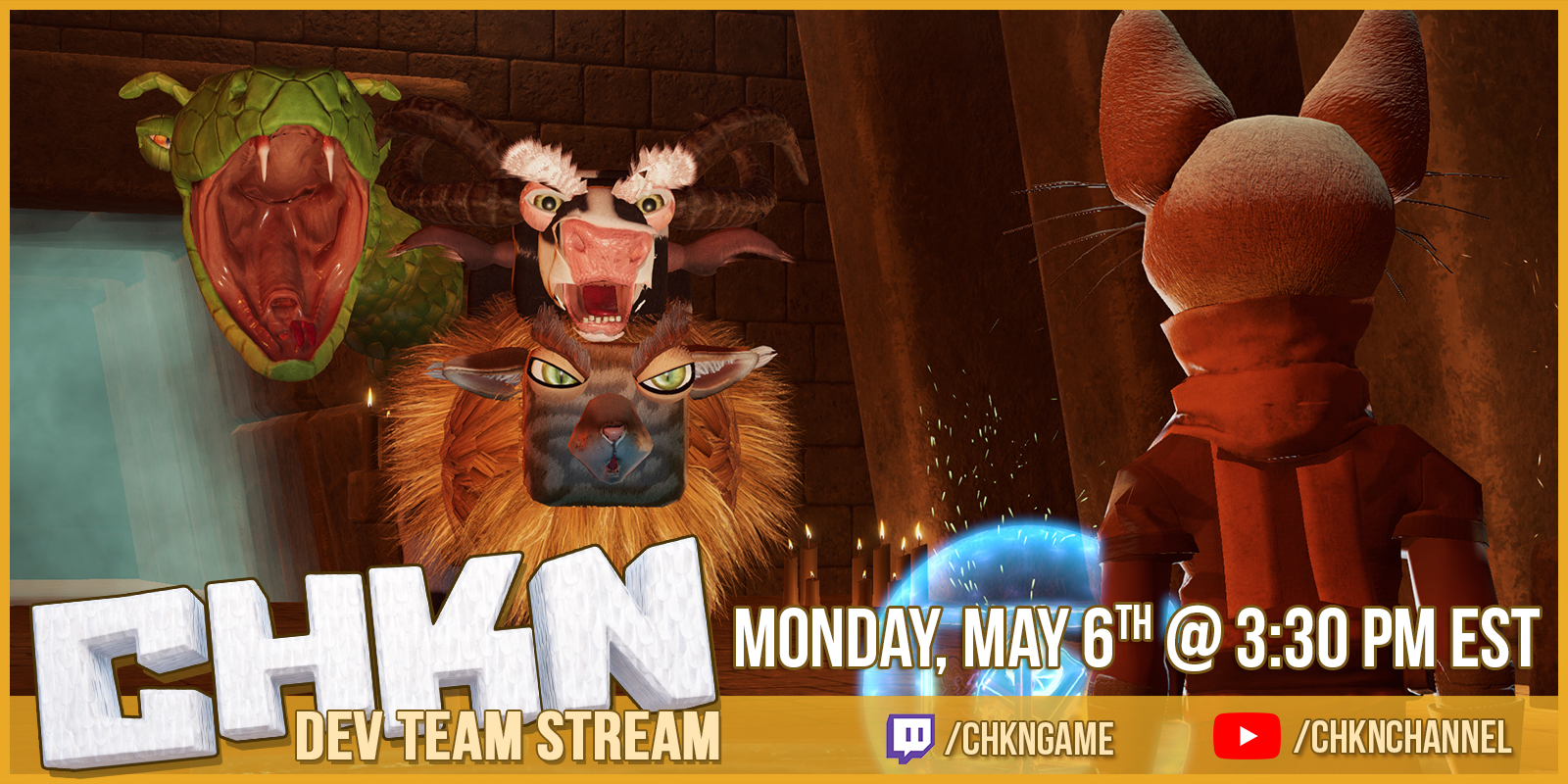 See you there!
- Team CHKN