After a period of inactivity, Creations is back with lots of exciting new updates in the works! If you're interested in Creations, this is the news post to read! So, without further ado, let's take a look at some of the exciting new changes coming soon!
Paths and Roads
Roads are a simple, but useful concept. Through the use of roads and paths, you can make it clear which way to your next town and the best path to follow. Especially creative players can take advantage of these roads by placing signs along the side, perhaps warning travelers of dangers along the road, telling how far is left to go, or pointing a weary traveler in the right direction to the nearest inn.
Trees
Where else would all the wood come from? Wood is going to play a crucial role in the development of towns, cities, and tools. Trees will be one of the first items to take advantage of the time system by slowly growing after being planted. In the future, some maps will have a forest characteristic, which will come with trees already generated on the map. Additionally, any new trees planted will have a "growing bonus". Maps with special characteristics like these will be important to any growing kingdoms. Control of these maps will be crucial, and wars may be waged just over one of them.
(More updates on trees coming soon)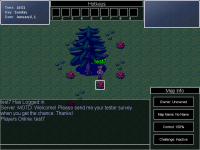 Building and Destroying Changes
Previously, destroying was a mindless activity that required a simple click. Soon, everything will change. All tiles will have a unique amount of "hit points" before it can be destroyed. Hit points will be global and save with the map, meaning that if 2 players were destroying something at the same time, it would break twice as fast! All of the values for tile hit points are pretty arbitrary right now, but eventually you'll find that breaking dirt is easy, while breaking a piece of stone is much more difficult. As destroying a tree will result in the entire thing being chopped down, they will also take many more hits than a piece of dirt. However, almost every tile will drop a random amount when destroyed, so chopping down a tree will yield several logs instead of just one. Soon, tools will be implemented allowing players to not only destroy tiles faster, but gain more resources.
As for building and destroying in general, a big change has been implemented. The white square you see in the screenshots now represents the tile you have selected. This is necessary because now your building range is much larger. Finally, you don't have to walk right next to a tile to place it, you can simply hover over a tile, assuming its close enough. The same is true about destroying tiles. Theoretically, certain tools could also increase your range, allowing you to destroy things from farther away.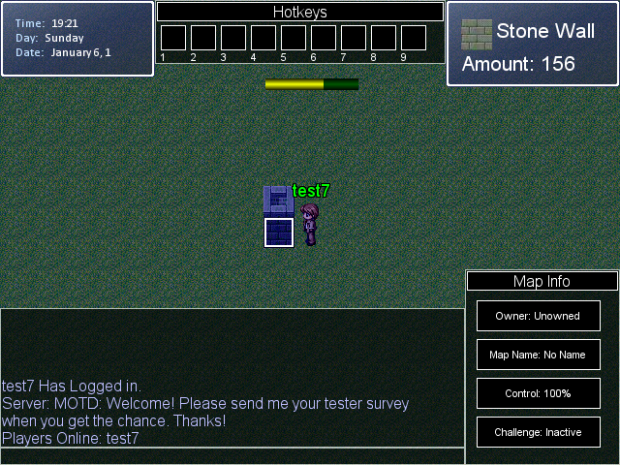 A handy HUD alerts you as to how damaged the tile is, and how much more you'll have to hit it.

Looking Back and Ahead
Up to this point, a lot of progress has been made, but there is much more for there to be done. So far we've had 1 test release, and it's my goal to have another one soon. If you're interested in Creations, please support us and help out by liking us on Facebook(www.facebook.com/creationsgame), tracking us on ModDB, and sharing Creations with your friends.
Stay tuned for more updates!