Crawle 0.5.6 has been released! This release addresses a number of optimisation issues as well as adding a new GUI system and other small bits of new content.
Changelog:
---------------
0.5.5 --> 0.5.6
---------------
# ADDITIONS
- Buildings now require materials (e.g. logs and leaves for huts).
- Redesigned the GUI:
- All bars are now transparent until hovered over.
- Whilst running the energy bar will become opaque.
- Added the spear. It is crafted using a sharp bone & branch.
# CHANGES
- Things can now only be added to buildings by dragging and dropping onto them.
- Blind mode is now unlocked for all difficulties.
- Removed tips from blind mode worlds and Unforgiving difficulty.
- Reduced the width of the blood content bar.
- Removed the background UI surrounding the bars.
# FIXES
- Fixed the "detected old worlds" message.
- Fixed buildings not sending in multiplayer.
- Fixed some music issues.
- Made significant optimisations to the GUI system.
- Fixed the debug key in multiplayer.
- Fixed the position of the drop animal icon.
Major highlights
A new GUI! We've minimised the GUI somewhat: the blood content bar is now the size of a regular bar and the rectangle behind it has been removed and the stats bars (i.e. hunger, sanity, etc) are now transparent while they are not being moused over (however energy will become opaque whilst running).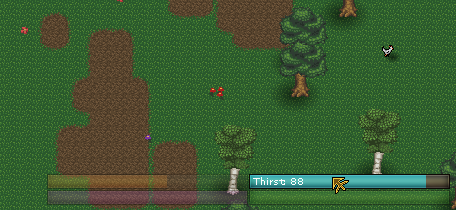 The spear has been added to allow you to cut down trees faster, hunt better and defend yourself more effectively. It is crafted using a sharp bone (which can be obtained by completely skinning an animal and then right-clicking it once more) and a branch.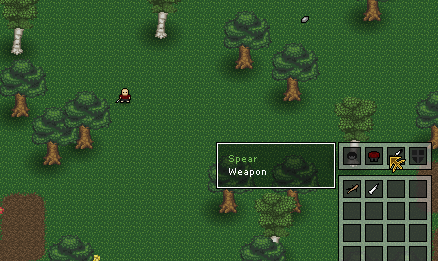 Finally, blind mode has been unlocked on all difficulties. Blind mode removes your stat bars, item tooltips and enemy health bars and gives no indication on the health of your body parts or your blood content.