Crawle 0.5.5 has been released! There were 2 main focuses this patch: fixing up multiplayer and improving the tutorial functionality. I'd also like to mention that we will be starting on 0.6.0 soon. 0.6.0 will be a massive content patch and therefore it may take a while to get out, but don't worry, we'll continue to post updates on a regular basis! Make sure to keep up to date with all the development news and blogs here: Sleepystudios.com
Changelog:
---------------
0.5.4 --> 0.5.5
---------------
# ADDITIONS
- Rivers!
- Re-added PVP back into multiplayer.
- Servers can now have MOTDs. It can be changed with /motd newmotd.
- Servers can now kill players with /kill playername.
- Servers can now display item IDs & names with /showitems.
- Servers can now give players items with /give playername itemid.
- Added swimming!
- Added a new tips system.
# CHANGES
- Removed generated stumps.
- Removed the loss of hunger at midnight.
- Improved the equipment window slightly.
- Banned IPs will now be saved in an .ini in /data/.
- Removed the serverside /restart command.
- Energy loss is now a bit slower.
- Changed 'rock' to 'sharp rock'.
- Energy regen is now a bit faster.
- Removed the old tutorials system.
- Removed tutorial worlds.
# FIXES
- Significantly improved the rendering engine.
- Fixed the serverside warp command.
- Fixed not being able to type after running in multiplayer.
- Fixed village generation in multiplayer.
- Fixed the world saving when the server started up.
- Fixed the server's day night cycle being too fast.
- Fixed the overflow error when drinking at full thirst.
- Fixed holes spawning in water.
- Fixed holes spawning in trees.
- Fixed being able to pickup baskets with items in them.
- Fixed baskets not giving back items.
- Fixed bark taking not being sent in multiplayer.
- Fixed not seeing other players' basket items.
- Fixed durability not sending properly in multiplayer.
- Fixed banning & unbanning in multiplayer.
- The client will now try reload with no hardware acceleration. (Possible automation error fix).
- Fixed various overflow errors.
- Fixed right-clicking on world mode options.
Highlights:
Rivers are now generated in place of water. They're a lot rarer so it'll be a bit more difficult to top up your thirst bar now. We've also (finally) added swimming.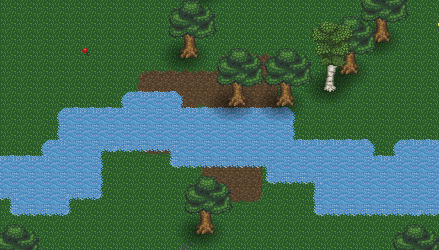 Tutorial worlds and the large tutorials have been merged into a new Tips system. These Tips will appear based on several conditions (however a few basic ones will pop up at the start), you can choose whether or not to enable them with each new world.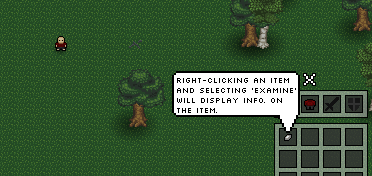 Finally, we've made a ton of multiplayer improvements. Hopefully it should be a lot more stabler now and the additional functionality should be useful. As always you can report bugs here.
IMPORTANT!
This update introduces a new updater. After updating go to your Crawle folder and open "Patcher.exe". From then on you can play as normal (from a shortcut or whatever you usually launch Crawle from). The Patcher just needs to be "installed" first for future updates.
The server will also be need to be run as admin!