Hey everyone, I know it has been a longer wait than anyone, especially myself, expected. I thought I would have the build up several days ago, but I hope that you will agree with me that it was worth the wait. I polished things up a little more, though in my haste to finally get it online I mistakenly forgot to delete one of the alternative avatar mock ups I had made, and so one of the grounded cameras is mistakenly (sloppily) from its point of view. Anyhow, that aside, here is a brief overview of the updates - I won't get into the details too much, there's a read-me and a change-log included (although I will be the first to acknowledge how incomplete they are). However, I will also not reveal too much, but ask you to explore and enjoy the experience, and give me feedback on what you thought; I anticipate writing another article about some of the puzzle elements in a little while, after people have had a chance to experience it fresh.
As to the gameplay and new features, one feature I have talked about a little bit on my blog is the jump script I use. I have come up with a workable jump script for now - unfortunately, I cobbled it together using triggers and I script that checks that the hight is within a certain range. While this works, it has the effect of limiting the zones within which you can play - sure, you can manage to get up a little higher like I did below,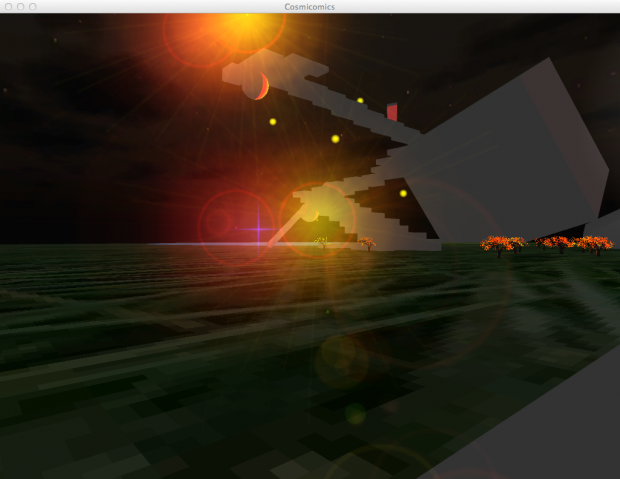 but from there you can't go up much at all; well, it will give me something to work on, and keep people eager and some areas new and unexplored, so it's not all bad I suppose.
I also drew on grass finally, and am so far pleased with the effect: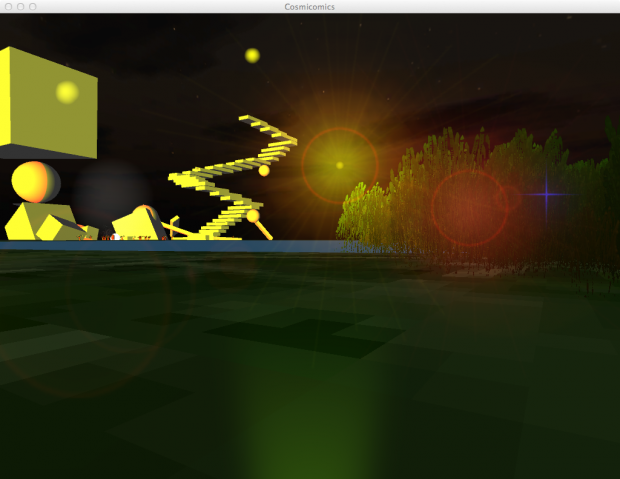 and I've implemented 4 of the basic puzzle types - obviously I will need to refine everything a lot, and I will post again to talk more about this, but it's aa start - I am really pleased to have a demo with a few of these features. Heres a snapshot I took with a nontrivial one:
I promise it makes more sense in the game - and I will upload more about it later, so everyone has a chance to explore this first. Lastly, get started and have fun! (links to downloads below)
Links to the downloads:
Mac OS Build (url: Indiedb.com)
Windows 64 Bit Build (url: Indiedb.com)
Windows 32 Bit Build (url: Indiedb.com)