Hey guys. Been a little busy with other things recently so progress on CORE has been going a little slowly. Now, I'm aware a lot of people click to see news of a game and have no idea what the developer is talking about, so for those of you who haven't seen the project before, check the video below before reading on!
Now, on to the December news!
The Shop
The biggest addition to the game is the new shop mechanic. Every wave, 4 random items will spawn next to the CORE. Each item has a price depending on how many of the item you already own. Currently there are only 3 items; I'm aiming to implement around 50 to add a lot of diversity and strategy into how you purchase items.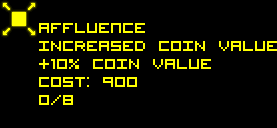 Another key part of the shop are the sales. Each item has a 4% chance to have an offer from between 10 to 50 percent off. The sale mechanic is still being tweaked as currently it hasn't been tested too much.
The items currently include Magnetism, Affluence, and Critical Accelerator. Hopefully once all 50+ items are added, there will be plenty of variation and diversity between each playthrough.
Ironing out some Issues
CORE, at the moment, has been called confusing by some players. After the first or second play people have been able to play much better as they fully understand the games mechanics. One issue is the fact the game starts the second you've chosen your focuses and damage type, throwing you into the game surrounded by 3 enemies within the first second. There is now a brief intro animation that tells you to defend the core. It breaks everything up and makes it feel less frantic to start with.
That's about it for this update; I've been working on it a lot less recently as I've had lots of other things I've been focusing on, and it'll probably be that way throughout December. In order to track the smaller updates I'm adding to the game, be sure to follow my currently inactive twitter! I'll be posting some small details about little improvements and uploading some screenshots there. Thanks for reading!
- IDoZ