As you may or may not know, this project has been in almost 3 years of part-time development, and I am still going :D
---
During the time that news wasn't coming in, the game has taken on MANY changes and additions. New music has been made, new art and biomes, and tons of polishing. It is awesome to continue work on this fun project, here's a demo video of the latest snapshot:
Yeah i know youre wondering what the hell the cloud blocks are, but there will be more to it in the future.
There is a small bit of concept art I shared yesterday which includes 3 new biomes, currency, and a swimming mechanic draft.
---
If you don't feel like watching the video, this is one image from the video I'd like to touch on.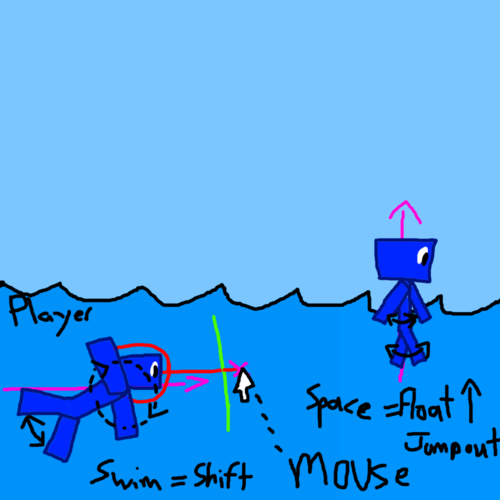 This is an idea I have for swimming mechanics, the character would face the mouse, and start swimming to that point as long as the W key is being pressed. Otherwise, the player slowly falls to the bottom of the pool. The player would be able to float up and jump out using the space key regardless of the position of the player or mouse. Does this seem viable? Or does it need revision?
With time and input from you guys we will find out!