Well, we´re not very originals, and we want to be famous and appear in TV! All you have to do is:
1- Like our Zombeer facebook pageFacebook.com
2- Write a cool comment in the picture "Like, Comment and Win" (you'll find it in our facebook page).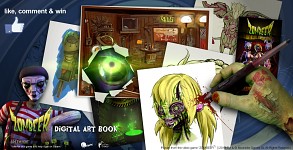 3- Trust in coffee, for us to finish this art book! ... Just joking, you´ll get it if you win [/h1]
When we release the game, we´ll send you a link to download it !!And remember to Keep Calm, drink Zombeer, and kill Zombies !!
Braiiiinzzzzzz!!
NOTE: It´s possible that we can´t see some shares because of your facebook privacy settings, so you can share the picture as "public" or left a coment here (like "done" or something like that) to let us know that you´re participating in the contest (facebook settings).