We have been busy. Team is growing and the weapons are almost done. We may tweak them a little but we are happy. As for the parasites we felt that a couple more were needed and the others could use some work. As you can see we were so excited to make them some of them do not have a full view of the concept making it hard for the modeler to see a front, back, and side view to model the parasites. We are trying to fix that and make a couple new ones.
We are going to be doing something very different for this project and we all just hope it works. If you follow our project you already know that you will be either a parasite or a commando. The commandos need to fight off the parasites and if they loose they are either "DEAD" or the parasite will take over the commando and become something else.
So, we are working on concept of what the commandos will look like (normal) and once after the parasite has entered into the commandos body. So as you can see this is a big task. We will have to model this after that which will be a lot of fun. We still need a talented mapper and another player modeler so if you have the time and talent to help please contact Carni on our profile page. Finally, we wanted to show off some of the new media to contain you.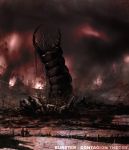 [modimg51846 NOT FOUND]
PS: Happy Turkey Day