Hey everyone, I have yet to put this on the game section but will do. These will just be the first post about the progression of our game which is still in Phase 1.
Phase 1
Concept Sketching
Concept Coloring
Staff Hiring
Story writing
Here are the concept art that so far we have created. It's very cartoony and please don't judge it too harshfully. It's our first time to make concepts and we are still just 12 year old kids. We will improve it in many aspects such as detail and coloration. At the moment only 1 drawing has color and most of the concept art is for the menu only. I will post another article on Tuesday with some more sketches probably including some background sketches and character ones.

The logo will have better coloring once we buy a graphic tablet. There will also be metallic effect on the lettering and we will create our own custom font set for the game. The lettering will be thin. Some lines may also need to be straightened.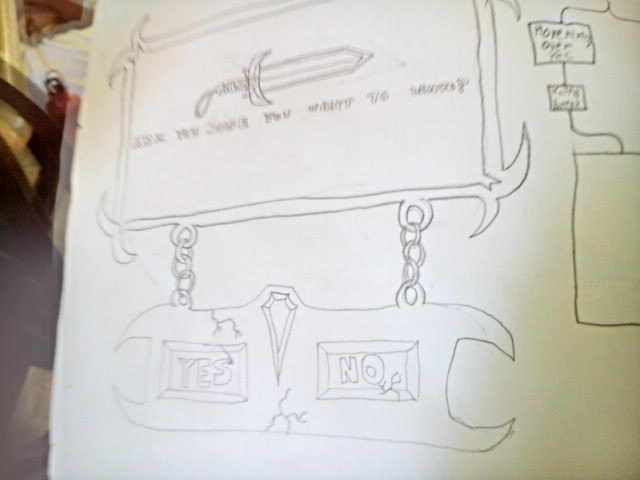 Test sketch on a window that will pop up when you press the EXIT button on the menu. Again, requires detailing and coloring. Even if we color it, we can only do so much with some color pencils. Some programming will make the knife image break if the mouse is hovering over YES and when hovering over NO gets raised up.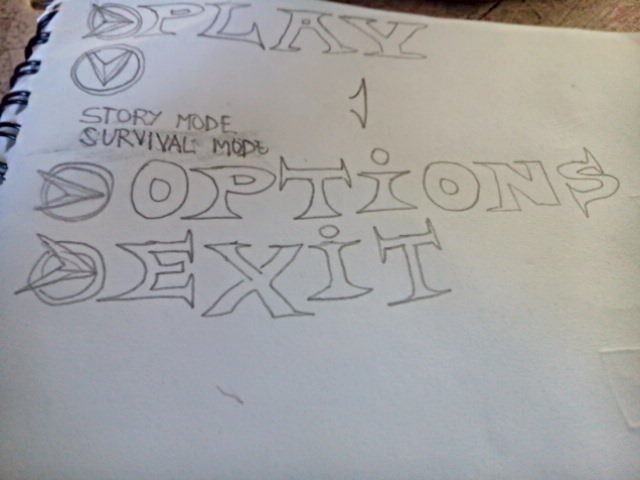 These is a test sketch for the Menu part of the game. Notice the lettering. That's what we plan to be for most letters in the game. Programming will make a Drop-down animation occur when the mouse presses the Play button. At the moment we only did a basic version of the menu scene.
I will be improving all of this tomorrow by coloring and adding some detail. Also straightening some lines and drawing the font set. At the moment, the sketches are very rough and not very accurate. Hopefully this post attracts a bit of interest in the gamers mind.