The last few weeks have been pretty intense. Let's dive in.
New Concept Artist
theDurrrian (Daniel Kamarudin) has joined the team temporarily and has been doing a great job helping us concept the player character and some of the equipment you will be able use.
Daniel is an experienced freelance artist who has worked on other projects such as Shattered b I.N.D.E and Fearful Fairytales by XM Studio.
You can see more of his work at Deviant Art here.
Male Concept Art
Until now you've only seen our placeholder art for the main character. Here is what he will really look like in the game.
We're going for a slightly darker tone that better resembles Scott's short story that inspired the game.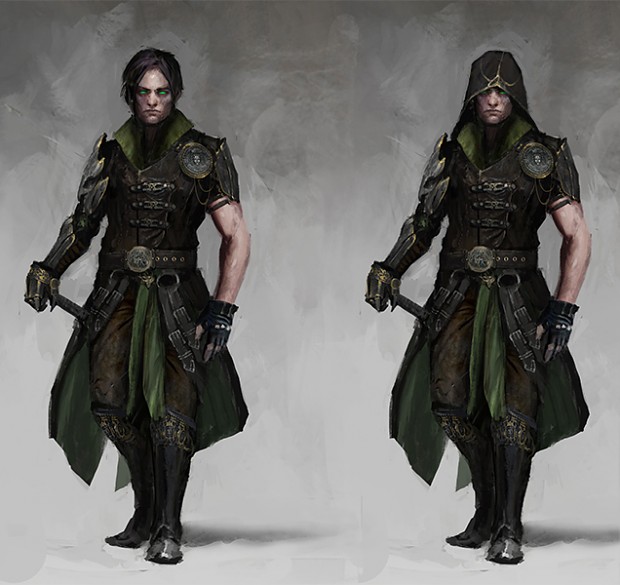 Female Concept Art
We wanted to give you the freedom to play as a female if that is your style.
The difficulty a lot of game developers have with female characters is that they need to have silhouette that is recognisably feminine at a distance. Many studios resort to dressing them down or adding needless cleavage and sideboob.
However, it is possible to create a female character without using sexualised stereotypes and we think we've done a pretty good job.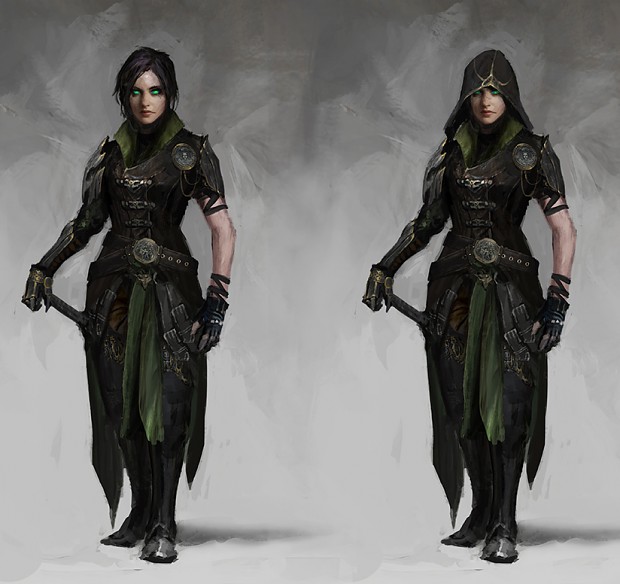 Female Animations
Here is a sample of what the female character' animated movements will look like.
We really wanted the female character to be athletic and fearsome.
That came down to three things:
Slightly accentuating her hip movement.
Making the shoulder movement more subtle.
Allowing flat foot placement. It was not necessary to add high heels :)
Please note that the character model is only a placeholder courtesy of www.Mixamo.com..
Dialogue
Now that you can play as either male or female, NPCs will address you by surname to make dialogue feel more natural.
This is done quite well in games like Mass Effect franchise.
However, the replies available to you in the dialogue system may differ slightly as men and women sometimes communicate differently.
The story will be the same for both male and female characters.
Your hood and mask will be removed during dialogue so as to better convey facial expressions and track eye movement of your character.
Trello Voting
It's now possible to vote on cards on the Trello board. Hooray!
You can leave a comment if you like to provide more detail about your ideas or just discuss the game features with us and the community.
This all helps us to understand what is important to you as players and we can then prioritise these tasks accordingly.
However, if you have not already done so, you will need to signup to Trello before you can contribute to the board.
Audio
Recently I completely gutted and rebuilt the way we are storing and playing audio clips. I have added some tools and storage helpers that allow us to play any sound FX or voices in a variety of ways.
We now have better control of volume so that we can better balance important sounds or sounds that are closeby in the mix.

We can even optionally pitch shift sounds to make them sound more varied instead of becoming annoying to the player e.g. footsteps and "ouch" clips.
What this boils down to is smoother playback, balanced volumes, varied sounds, a reduced build size and smaller memory footprint.
What's Next?
Now Scott starts creating the 3D models for the characters so we can finally replace the placeholder characters.
I will try to convince him to create a forum entry or a time lapse video that demonstrates our character pipeline.
That's it for now, but there is more to come on player equipment soon.
We'd love to hear your suggestions for the main character's surname. I'm afraid Shepard is out of the question :)
You can follow us on Twitter or Facebook for all the latest news, pictures and updates.
You can get involved in the discussion on the Forum or track our progress on Trello.
Watch the latest dev videos and technology demos on YouTube
Thanks for the support
Damian
Sandbox D7 Team