We've made quite a few changes to our commenting system in recent times, with one of the more major ones recently being deployed. For members this is the ability to view your commenting history, which should help you see the discussion you have participated in, and more importantly where you posted that comment. This we hope will allow you to find old images / mods / games you've posted on but forgotten about. For example here is my comment history.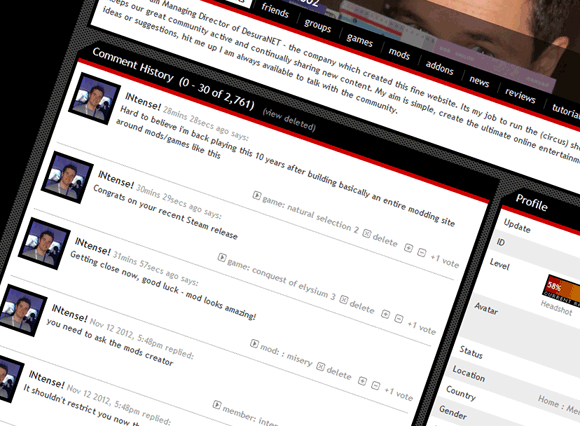 A more radical change we are also experimenting with, is the ability for guests to comment. This we hope will lead to an increase in discussion on the site between developers and fans - because we believe the most important service we can provide is a way for you to get feedback when posting news, images and videos on the site. To stop spam and trolling, all guest comments are policed by you the members and guest comments are not shown until you have approved them. So everytime you vote a guest comment up or down, you are basically allowing (or disallowing) that person to comment - so use your power wisely. And please join in the discussion on all of the news flowing through ModDB, IndieDB and IndieDB - because nothing makes us happier than seeing developers share their hard work and having you discuss and critque it.
Finally some bad news. At the moment GameFront helps us mirror and host most of the files on the site. They recently changed their download policy, which prevents users from the following countries from downloading files:
Argentina
Mexico
Chile
Spain
Thailand
Poland
Colombia
Brazil
France
Venezuela
Italy
Peru
Uruguay
Malaysia
Turkey
Indonesia
India
Ecuador
Costa Rica
Honduras
Hungary
Philippines
Portugal
Romania
Russian Federation
Serbia
Singapore
Sweden
Japan
The net effect of this has been our mirrors getting overloaded with requests and simply being unable to keep up with the demand. It is difficult for us to fix this, as providing another 2gigabit of bandwidth for downloads is quite expensive and requires significant architecture. We are in the process of adding more mirrors and investigating what we can do, but we encourage you to be patient when downloading, and remember that registered members are given priority access over guests on the site. So join today if you haven't already.