As promised I've added a new combat option to the game for people who want to focus on brawling in form of combat gloves.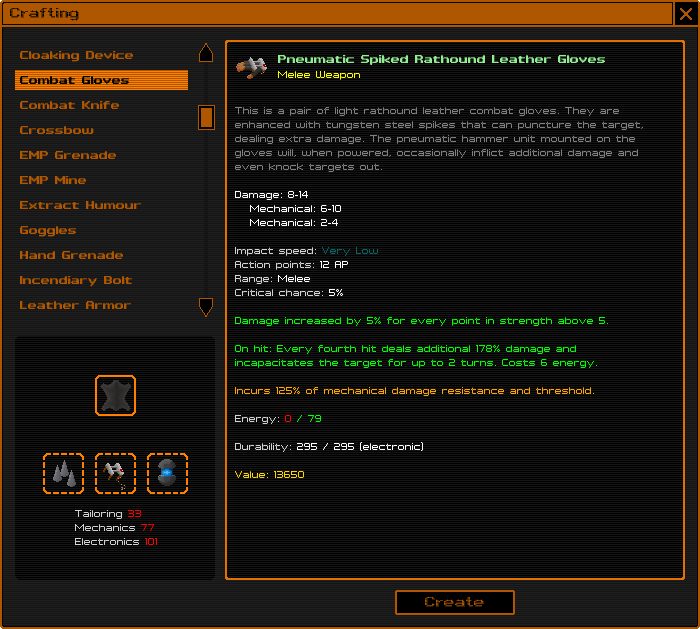 Combat gloves can be crafting from leather or metal. The type of material used will determine the AP cost / damage payload, while the quality will determine the overall damage. You can also attach spikes, blades or more metal plating which will add extra damage in different ways.
Gloves can also have power modules, which will drain energy while performing a special on hit effect. The two modules currently available are electroshock generator (which functions in the same manner as when attached to a sledgehammer) and pneumatic hammer which, when combined with heavy punch or similar feats, can dish out quite a bit of burst damage.
When it comes to unarmed feat bonuses, some will transfer to fist weapons, while others won't. I think that currently going for gloves as opposed to pure unarmed will always be better, but I plan to change that in the future by adding more stuff for the pure martial artist type of character through feats and psi. Gloves/fist weapons should not make the pure unarmed obsolete, but rather provide an alternative path and also allow unarmed characters to overcome some of their big weaknesses such as lack of AoE and burst damage.
Other minor changes:
Added more lens types for goggles (+crit chance, +special attack damage, +detection)

Damage from spikes and blades from boots and armor should now apply on special attacks

Reduced the damage of electrokinesis (it will still do more damage than pyrokinesis against smaller number of targets, but less single target damage other single target nukes)

Changed the way shock sledgehammer is made, will now require a power core

Junkyard surprise nerfed (+1/2 to a stat, -1/2 to a stat) and made consumable on use

Repairing broken equipment while worn or getting the worn equipment broken will now always correctly update armor and special effects penalties

Fixed bunch of spelling errors
Next I have one more item to add and bunch of AI stuff to do before I can release this version.