The Windows and Mac version will be receiving an update soon to V 1.15. In this update we are addressing two areas of the game: Resolution and Music.
When we ported Collaptris from Android to Windows / Mac, we kept the same resolution as the Android version (854px X 480px). This was mainly due to poor planning. We had originally planned on only releasing Collaptris on Android and it was just a change of heart at the end that gave birth to the Windows and Mac versions.
Resolution
In this update, we have increased the resolution of the game to give it a better feel on Windows and Mac. While the old resolution worked (a bit), this change adds a great deal to the enjoyment of the game and also allowed us to expand the game slightly (so far). With the change in the resolution comes an increase in the number of columns in the game.
New Resolution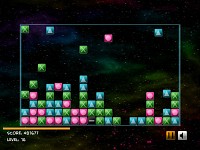 Old Resolution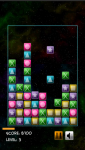 Music
The music in the current version of Collaptris has been described as a "chippy tune that loops over and over again ..." and "... is annoying as hell". We could not disagree with that description at all. It was a failed attempt on our end to create some music that matched a chippy, beatbox-ish style. With the coming update this will be no more.
The chippy music from hell will be replaced by 4 tracks that will alternate as you are playing. This should give a better audio experience to the game and allow people to play it without becoming annoyed at the music.
Update Time-frame
We are still wrapping up testing of the changes and tightening the art (due to the resolution change), and are planning on having the update out in the next week or two. Keep checking the page on IndieDB for when it is released.