Hello, everyone

TL;DR - visited Starcon on indie booth, got some good feedback and cosplayers' photos! :)

I've showcased Cold Shell at Starcon in St.Petersburg. It's a sci-fi festival with tons of space, science, anime, films and games related stuff! Overall - it was cool.

— Hi, what's the game about?
— Hi! Well it's like Hotline Miami but RPG and cyberpunk.
— What do you do in it?
— You bash thugs heads and change the wallpapers in your room.

Compared to DevGamm in Minsk Starcon is much more relaxed for an indie developer as myself. There are no other developes (or publishers/investors) lurking arond by hundreds, just common folks. And cosplayers, lots of them. If you like cosplay (i do) - you are in the right place :)

Indie games got just one stand (out of like 70) and were filtered. From somewhere around 50 applicants, only 17 were selected. Cold Shell was amongst those lucky ones :) The preparation and organisation process had some (ridiculous) hiccups, but it all turned out pretty good on the spot.

So, how did it look like ?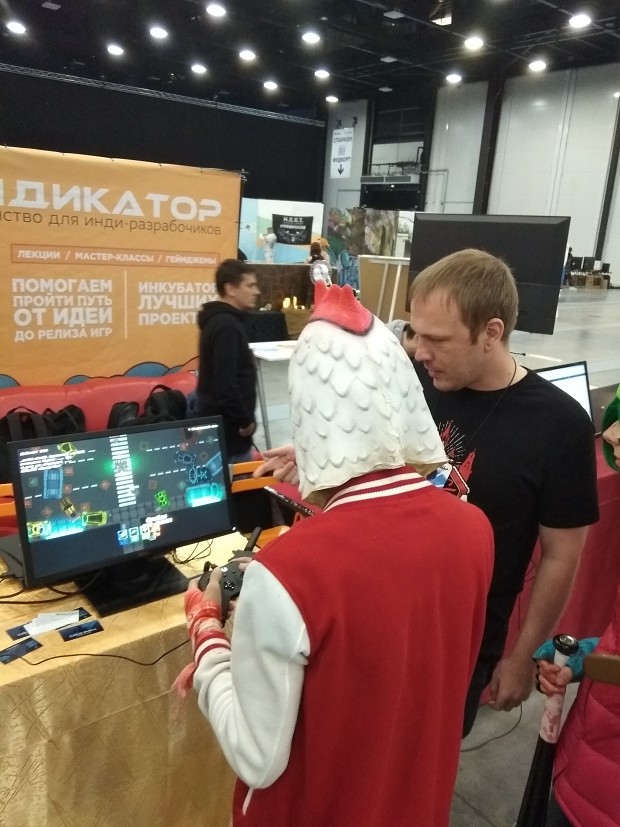 Something like that :) And yes, as you can see on the photo - one can play Cold Shell with a Gamepad now. It's extra rough, but still it works.

Starcon was 2 days long. 8 indies first day were changed with 9 others on the second day. All sorts of games were present. For exapmle, 2 games near each other. First dev says: our game is all about story and dialogues and cutscenes. We've got deep lore and rich characters. The seconds dev says: my game is not about story, hit that button to attack. Whom to attack? Everyone you see :)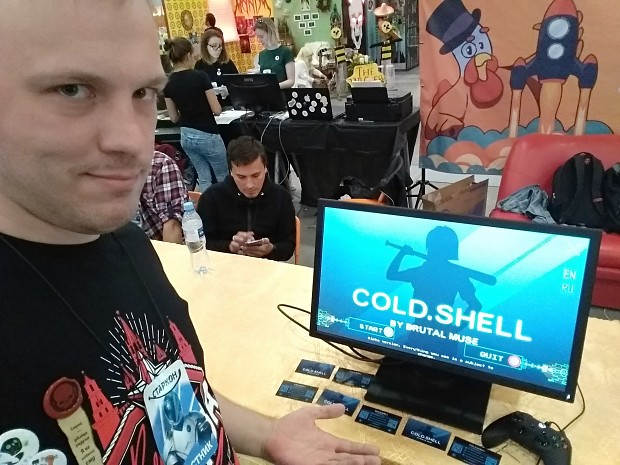 Come and play photo

From all the people who tried Cold Shell, i liked the Hotline Miami cosplayers best :)
Their costumes were cool and they really liked the game (and even followed my social group on the spot).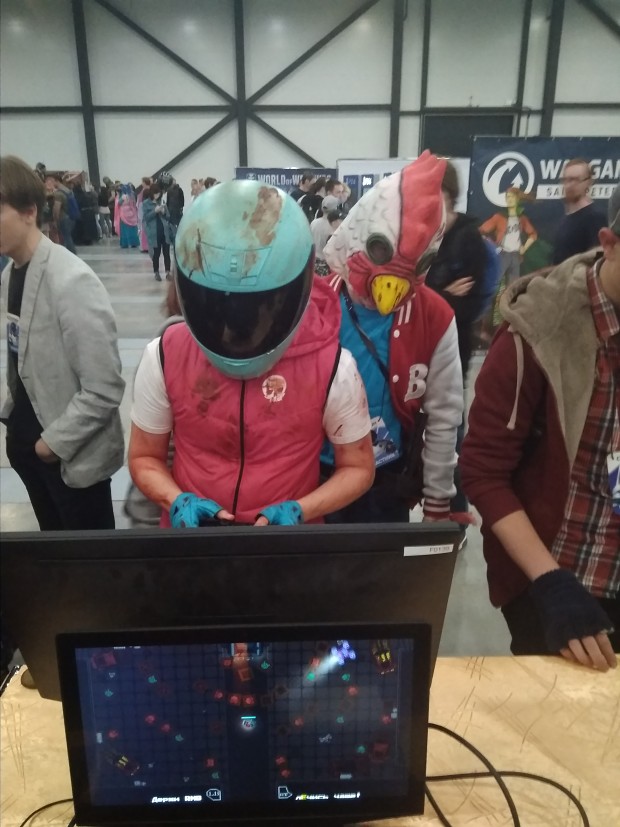 Yes, these guys were awesome!

It was super cool to see people's emotions when they were playing the game i'm working on! Super motivating!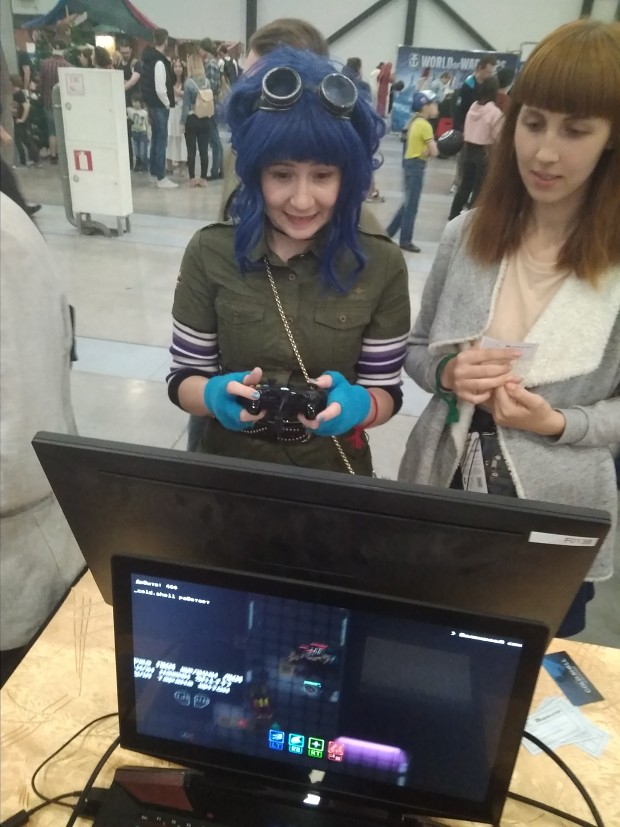 Not so many female gamers decided to try my game. Yes, it brutal bloody and stuff, but the protagonist is female.

My showcase was productive and fun (but tiresome). Starcon was far from DevGamm feedback wise. Some bugs were spotted, some small features requested. Gamepad control was at an "acceptable" level. My game didn't ever crash :) Finally i've seen people who genuinely liked my game and were looking forward it, asked for the release date and price.

At the end of the showcase the organisation team handled every attendee a signed diploma. It is on the wall above my monitor now.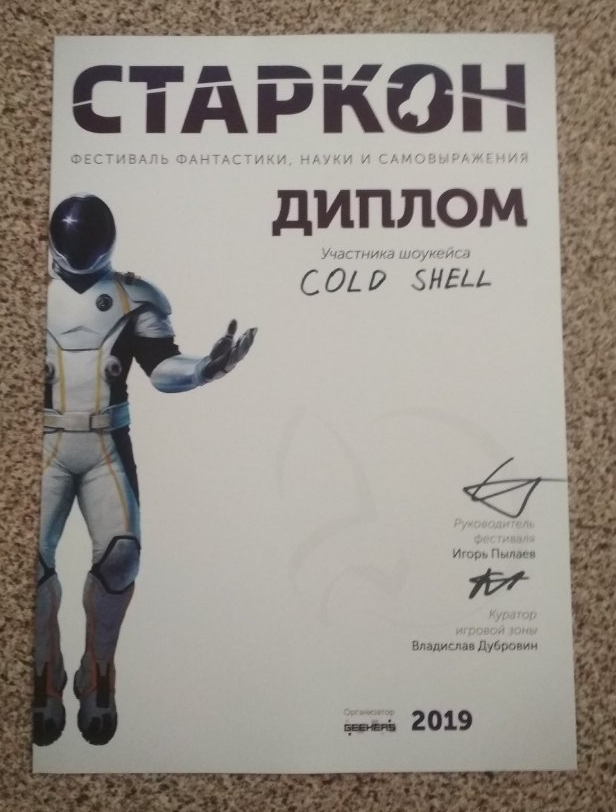 That was cool.

Starcon was cool and simple. I liked it. Now i'm moving on with developing Cold Shell. I have bugs to iron out, features to add, and levels to re-design.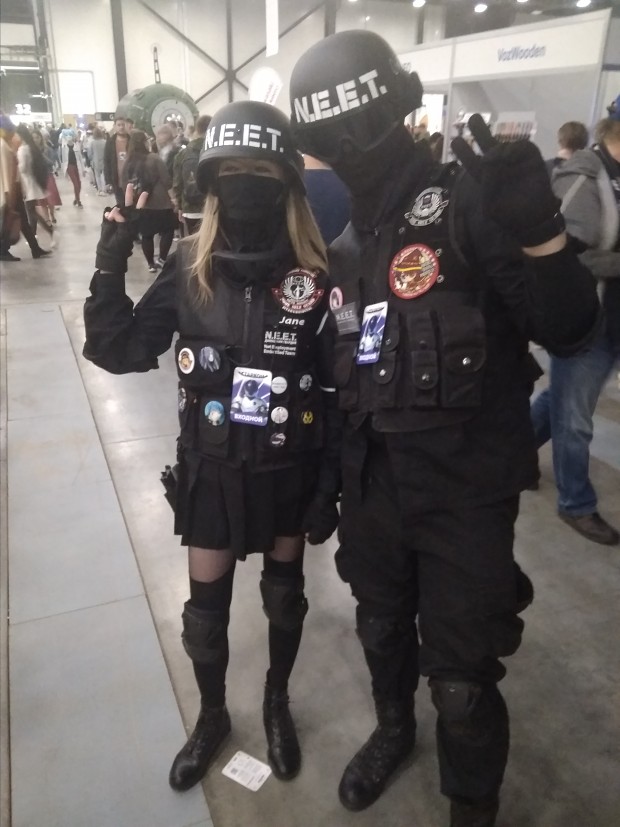 Thank you for reading it all the way here. It means a lot to me.