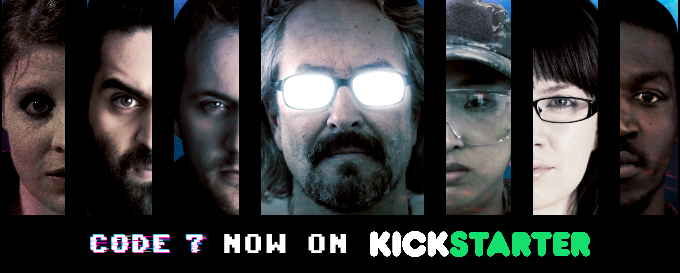 We launched the Kickstarter campaign for Code 7 and released "Episode 0: Allocation" as a free download on September 22nd. The campaign will run 35 days and the goal is to raise 15.000 € for the upcoming five chapters. More information and the download link for the game can be found at our Kickstarter Campaign.

"Episode 0: Allocation" is a complete remake of the Code 7 prototype that was released in 2015 and features a lot of gameplay tweaks, new mechanics and professional voice actors. After exhibiting the game on events like A Maze Berlin, gamescom Cologne or Radius Festival Vienna, we've gathered a lot of feedback so we could create an interface that feels good and is easy to use. The biggest changes are:
Advanced Auto-Complete: You can not only auto-complete commands by using TAB or RETURN but the game also shows you all commands that are currently available.
Interactive Map: A minimalistic map will show you the location of the main character and all important assets and threats in the location, you can navigate the main character through this map in real time.
New Hacking-Game: The new mini-game is based on the real hacking method "Man-In-The-Middle" Attack and needs more strategy and skill than the previous version.
Database: You can look up information in a Database and thereby receive mandatory and optional information. Additionally the game saves found information like login names or passwords.
Apps and Systems: We have added some more variety in the form of different apps and systems you can and have to use. You can (or have to) make use of apps like e-mails, file-system, room settings, robot control and more.
The game runs on PC, Mac and Linux. More Details at our Kickstarter Campaign.
Screenshots