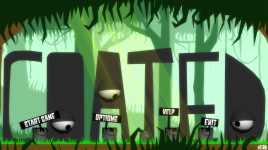 Coated is a puzzle game. Where you play as an alien in a different world. You coat your self with colors to escape and hide from enemies. You can navigate through the levels by going back and forth to solve your current puzzle. the game directed to adults who now about colors. And directed to children who willing to learn colors. It is a game, adventure, experience and lesson.
The full game contain 6 visible worlds. Each world contain 25 level plus a boss fight. There is more hidden levels, worlds, mods and secrets, which make the game over than 200 level :)
Enjoy the game's different mechanics of hiding from enemies and solving puzzles. Everything in Coated's world depends on colors. You can coat yourself and merge, multiply & subtract colors to get a certain color. You can interact with most of the environment's objects by colors too.
In a word, in Coated's world you have to Coat, Hide, survive & solve with colors.
Coated now running the voting process on Steam's greenlight. Support it if you want to play it soon.