Working on Tournament mode for Thy Sword! Face your friends (or foes) in duel mode where the last one standing...wins. So we're thinking now the game will have standard campaign, the tournament (duel) mode and maybe some hardcore mode where you practice dying a lot, maybe with more strict permadeath rules...

FIGHT!!! Finish him!
Of course, you maybe rather spend your time cooperating in the proper game campaign.
That being said, we've noticed a duel or two suddenly taking place in that "whoops" moment. "Didn't mean to hit you there buddy. Yeah? Here's one just to make it even. Oh yeah !?" And so on...
it's already lots of head-chopping fun.
Choose your character (there will be several to unlock in the game) and duel to the death!
Remember...finish him! This all takes place on a custom arena level with no enemies...maybe a few traps though. Making some custom backgrounds for the "arenas".

Take care & stay sharp!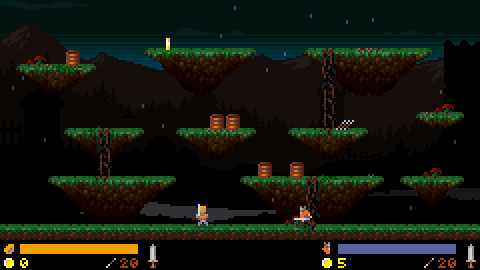 The Viking asked for some promotion as the newest guy. So here is a Gore-y GIF with some chopping action. For Crom! Crooommm!!! Also, Beer.