Client Version 1.4.6
This is a relatively small update, but has within it some of the background code working towards the new object animation system we've been talking about lately. We wanted to get this version out the door to fix up some lingering issues with the NuVO Zip, but rest assured we are still working on object animations for the client and should have another update later this week.
We made some minor changes to Sunset Harbor to make Sunset Motors a bit more friendly to get to. Added a more defined path texture as well as a more clear indication of how to get in and out the parking lot area.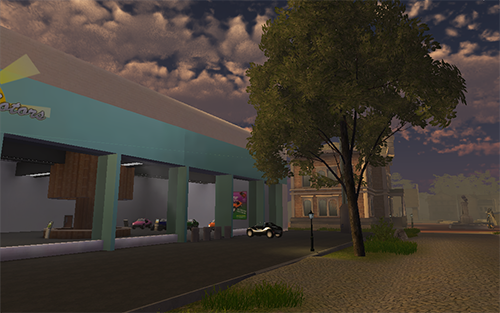 Release Notes:
[Updates]
- Moved Trivia Terminals in SH
- Visual change to path in front of Sunset Motors to make entrace and area more noticable
- Pruned some trees in Sunset Harbor to improve performance in out of the way places
- Updated product loading to prepare for new object animations that are coming soon
[Fixes]
- Fixed issue with default vehicle skin reflections not looking like their display model in Sunset Harbor
- Fixed issue with vehicles not loading when entering a location with other players already in a vehicle. This is was most notable in Sunset Harbor and Tutorial Island.
- Fixed issue with objects not showing in the correct place for others in the room if decorating and moving objects on top of another object and back off again