Client Version 1.4.13
After the release of the new roads last week we decided to spend some time on some of the social aspects of NuVO. For those that have been around for a bit, you've been familiar with the old event system on the website that we've left a bit in ruin after the server crash. As mentioned in a previous Developer Journal we've been working to re-invent the event system and bring it in world and we finally have.

Events
The new events system is accessible in world under the Destinations section of the main button bar at the top of the screen. Events are broken down in to three sections which are accessed by clicking the tabs on the left of the events window.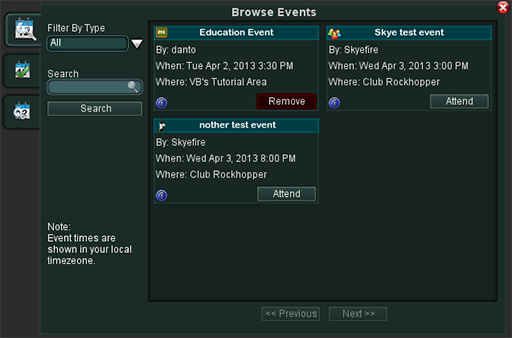 Browse Events:
This section shows all of the upcoming events that have been posted by our users. You can click the more info button to get a description of the event as well as visit the event location. It is also here where you can click Attend to attend the event and let the owner know that you'll be there.

Attending Events:
This is where you will see all of the events that you have marked as attending. This is a great way to see what you have planned.
My Events:
If you're a NuVO denizen and want to create an event then this is the section to go to. This will list all of your created events as well as a handy button to create a new one. By clicking on the more info button of an event you've created then you will also see a list of users that are attending your event.
The new event system is a great new way to meet new people and have fun in NuVO. One of the best features of the new event system is that all event times are relative to your local timezone which makes it a lot easier when determining when to show up.

There are a few other tweaks and changes so be sure review the release notes below.
Release Notes
[Updates]
- Vehicles button added to main menu. Vehicle button under decorate has been removed.
- Removed My Saved Layouts button from Places section of main menu
- Renamed Places menu to Destinations menu
- Added events button to Destinations menu. New event interface allows for browsing, attending and managing in world events.
- Added Event/Info terminals to Sunset Harbor Plaza area
[Fixes]
- Fixed minor background error that would occur if Sales Terminal was trying to load an image for a product that isn't functional
- Fixed issue with vehicle not appearing where you placed it if placing on another object
- Minor tweaks to decrease memory usage while loading area content