A little attention!
The project team does not have an interpreter, so if you find any errors in the structure of the sentence or grammatical error... in general, strongly for the errors do not kick. In translation from Russian into English the translator Google was used.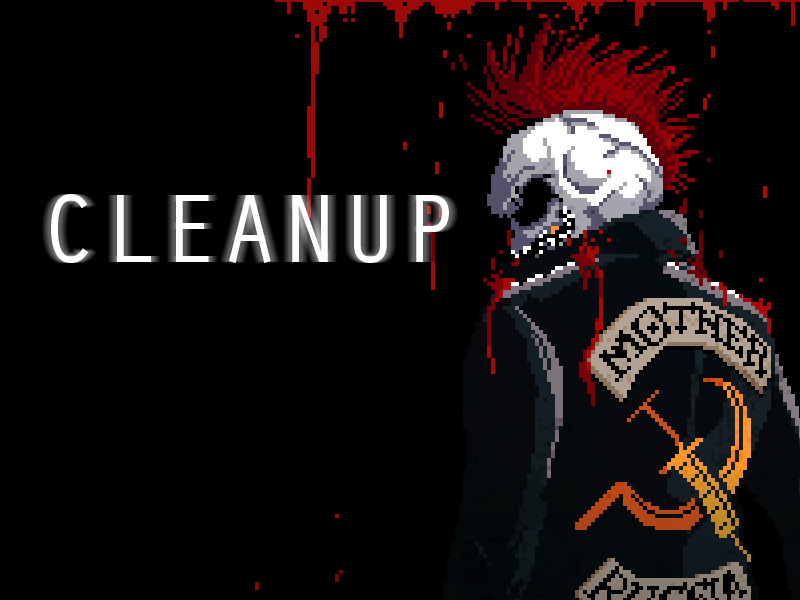 [ENG]
STORY
This city is ruled by mafia and bandits. Police and politicians are corrupt. And it is in this city, forgotten by God, that the "Cleaners" office has developed its activities. They are, for a generous fee, ready to take care of the most risky affairs of this city.
You are an Oscar, a professional "cleaner". Successfully completing the order after the order, you survive in this cruel city without any problems. Until one day you are not offered to clean up a new gang, which settled in an abandoned hotel. At first everything looked like a normal order until at the end you find the head of the mafia clan dead. And now his blood is on your hands.
You are the most wanted man in this city. You are a real predator, which opened the hunt. Now the whole mafia and the "Cleaners" crave your blood. The only thing you can do is hide, but there is no place to hide. Therefore, if your miserable life is dear to you, you must fight. Must kill them all or be killed himself.
Rely only on your animal instincts and strength. This city does not tolerate delays, every blow and shot is deadly here, so act quickly and decisively if you want to survive.
FEATURES
Great storyline.
Dizzy shootouts in the blood-drenched corridors.
Brutal-Action soundtrack.
1 hour of varied gameplay.
Trailer
Download Demo:
[RUS]
Об игре
Cleanup - это боевик, полный смертельно опасных перестрелок, жестокости и насилия.
Этим городом правит мафия и бандиты. Полиция и политики продажны. И именно в этом забытом Богом городе, разворачивает свою деятельность контора "Уборщики". Они, за щедрую плату, готовы позаботиться о самых рискованных делах этого города.
Ты - Оскар, профессиональный "уборщик". Успешно выполняя заказ за заказом, ты без каких либо проблем выживаешь в этом жестоком городе. До тех пор пока в один прекрасный день тебе не предлагают зачистить новую банду, которая обосновалась в заброшенной гостинице. Сперва всё выглядело как обычный заказ пока в конце ты не обнаруживаешь главу мафиозного клана мёртвым. И теперь его кровь на твоих руках.
Ты - самый разыскиваемый человек в этом городе. Ты настоящий хищник, на которого открыли охоту. Теперь вся мафия и "Уборщики" жаждут твоей крови. Единственное, что ты можешь - это прятаться, но прятаться негде. Поэтому, если твоя жалкая жизнь тебе дорога, ты должен сражаться. Должен убить их всех или самому быть убитым.
Полагайся только на свои животные инстинкты и силу. Этот город не терпит промедлений, здесь каждый удар и выстрел смертелен, поэтому действуй быстро и решительно, если хочешь выжить.
Основные особенности:
Качественный сюжет.
Головокружительные перестрелки в залитых кровью коридорах.
Потрясающий саундтрек.
1 час разнообразного геймплея.