Hello there, and welcome to Development Log #3! The good news: This week has been one of the most productive weeks since I restarted the project! Hooray! The bad news: Ironically, this will probably be one of the shortest Dev Logs so far. Boo! You see, majority of the things I have been working on are very behind the scenes - mainly ordering the structure of the item database, programming collectable objects, and working on interactive objects such as doors and crates. Of course, these are integral to Claustrophobia's gameplay, but leave very little to actually show. Except for pictures of empty rooms filled with dodgy placeholder textures.
One of the major things I have been working on is more comprehensive user interaction. Claustrophobia v1 suffered from multiple small issues in that department, such as being unsure whether you were attempting to pick up an item in a door, or close the door ontop of it, and inconsistancies between the functions of left and right click. This time around, tooltips are labled with the functions that you can perform, and your action will always apply to the item with the highest priority on that tile. The priority order generally goes Enemy > Item > Interactive Object > Movement.
Of course, this brings up a few design decisions, and while we're on the subject, I'd like to hear people's preferences. Would you rather left click controlled all primary actions (movement, pickup item, attack, open door, etc), and right click secondary actions (close door, place item, etc), or would you rather left click controlled only movement, and right click all interaction? Or any better ideas?
To demonstrate an example of tooltips and interactive objects, here's an in-game gif of everything working together, in the form of doors: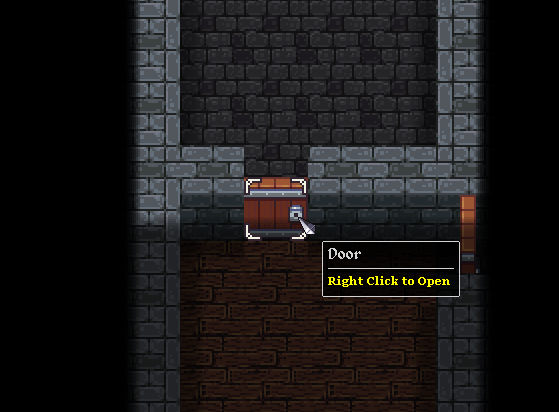 Well I did tell you that there was very little to show... Hopefully next week I'll be able to show some more of the new art style, beyond blank walls and floors. Maybe some characters.
Everything else I have been working on is either too small, or doesn't really have anything extra to talk about. So here's a summary for those interested:
Added unit health bars and floating combat text.

Completed the main work on item tooltips.

Added the stats that were discussed last week into the combat engine.

Created collectable objects which can be picked up and placed, and put in the players inventory by placing them on the player's tile. They also sparkle when on the floor.

Completed the main work on object cleanup. Now when an enemy dies or an object is picked up, it completes all its final processed and is then removed from memory.

Also messed around a bit with the map generator, which now lets me add objects during generation, which means I can make specific enemys/items/interactive objects appear in certain locations and formations (excuse the ryhme).
And that my friends, is that. Stay tuned!
Cheers,
Dan
@TheIndieForge