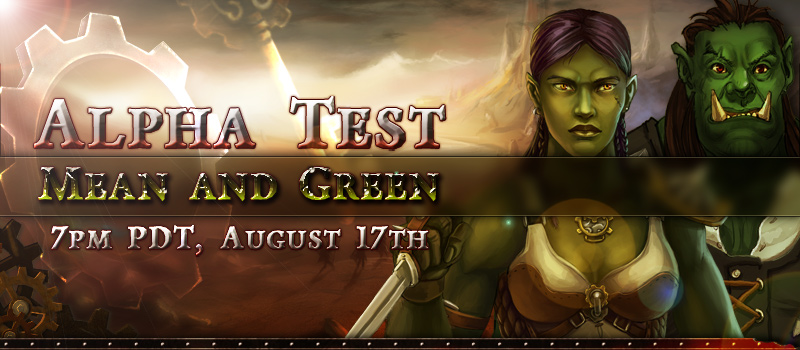 After wrapping up the Goblin Incursion weekend, we're (finally) ready to roll out the rest of the greenskins.
The fourth and final Alpha Weekend for City of Steam goes live this Friday, August 17th at 19:00 PDT (22:00 EDT) and will run until Monday, August 19th 00:00 PDT (03:00) EDT). This weekend we'll be seeing hobbes and orcs joining the party. Huzzah! The complete array of all 9 playable races will be traipsing through Nexus with ever more daily quests and content!
As it's the last Alpha Test, we want to pack in as much as we can. So more contests for all! We'll be bringing back a few of our favorites as well as keeping some hidden contests because we love secrets. More contests, more swag, more amusement.
If you've already got an Alpha key during the previous tests, you automatically have access to the "Mean and Green" weekend. Keep your key safe, and prepare for the crowds of refugees descending into The Refuge.
For those who have just registered, a new batch of Alpha keys is on the way. Be sure to check your inbox to see if you got one from us. Players who have purchased a "Collaborator Pack" will be guaranteed a key to test the server out this weekend.
If you haven't signed up for our Newsletter yet (subscribe now for updates and priority on keys for the Alpha and Beta tests), you still have another way to snatch up a City of Steam Alpha key. We have teamed up with several established gaming sites this week to host key giveaways for this Alpha weekend. We'll keep updating the list during the week with partners and links to their giveaways, but for now, these sites are:
They may look gruff and intimidating, but could the greenskin races just be misunderstood?
- City of Steam Dev Team