This is a repost from City of Steam Design Dev Journal
paragon [ˈpærəgən] n
1. a model of excellence
2. a. [City of Steam] Beings that transcended to near god-like status in ages past…
b. [City of Steam] See entry below for more details.
Starting off an article with a dictionary definition isn't very original, our Paragons however, are and with that we are adding that new dictionary entry. When amazing people who want to play the game give us their hard-earned money, we like to reward them. And as you might've noticed, when people give us enough for the Paragon tier we want to show our appreciation by inviting them to join in on the creative process. We sit down with them (okay we really only got a chance to actually sit with the famed Foust of VFI) and develop an item based on their design. Going from an idea or sketch to an actual in-game item with animations and everything is actually a pretty long and involved process, but we'll be covering this very soon!
We, however, have some sad news regarding the Paragon Tier; after the 5th of December the design-an-item extra will be phased out, so if you still want to design and get your own item (and of course be featured in one of these Dev Journals) please contribute before then!
And now, on with the designs! This time we've got four of them for you, from a 2-handed engine sword, to a Steampunk 'Vader' helmet, we've got it all. Let's go through the four different designs and show you some of the back and forth between our wonderful Paragons and ourselves.
Uvhash:
"One Steampunk, red haired, goggle wearing Vader coming up!"
Uvhash wanted a rather imposing helmet, after taking in his designer notes and the pictures he sent in we were sure we could make something fantastic. Fusing the helmet and facemask together with vials of liquid on the side, it makes for a pretty intimidating sight.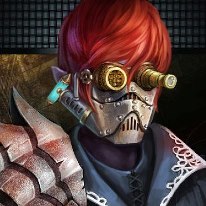 For the avatar, Uvhash wanted a Draug with the Male Aven hairstyle, but red. If you're on the forums you've probably seen it already quite a few times but we couldn't resist posting a higher quality picture of it!
Ryuusei Cartwright:
"Calling it the Swiss Army Knife of weapons wouldn't even do it justice."
After a lot of back and forth, in the early stages of talking about design Ryuusei actually came up with a great idea for pets, which we couldn't do at the time. However, in the end this idea came out as one pretty awesome design we might not have considered before, the Universal Hand:
"This 1H weapon contains all the componentry required to make it usable by any profession. It can produce magic, cut flesh, and fire projectiles, making it an amazing weapon with great variety of tactical uses. Unfortunately, these advantages come at a price of efficacy –it does less damage than other weapons."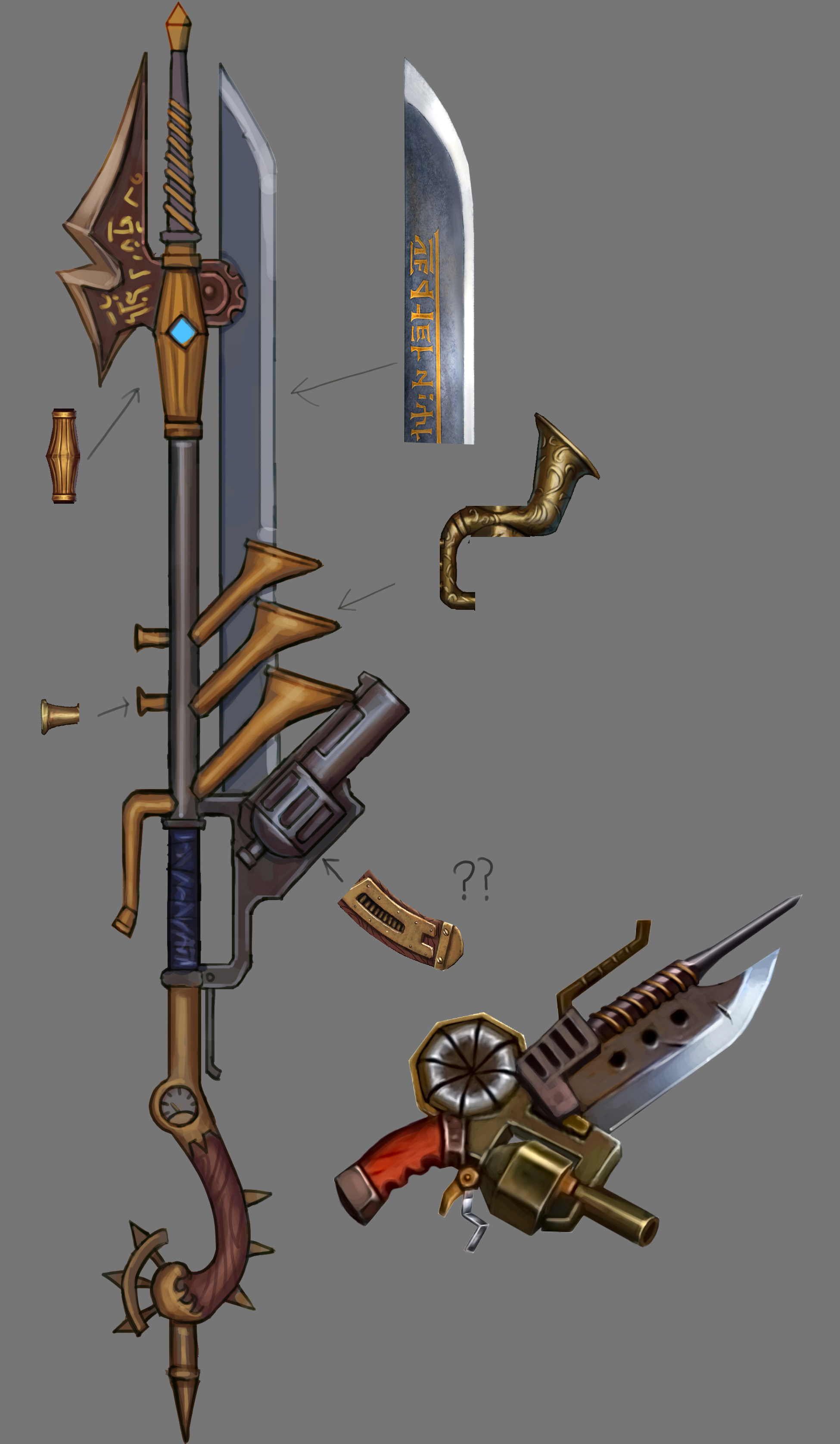 So what was Ryuusei's response?
"Looks great! I like it, no complaints."
All in a day's work.
Vinal:
"When technology and the dead co-exist, only then can the wielder harness its strength"
While Ryuusei designed a very multifunctional weapon, Vinal had a very specific weapon in mind, from his drawings and the correspondence we had with him we could clearly see what he was going for.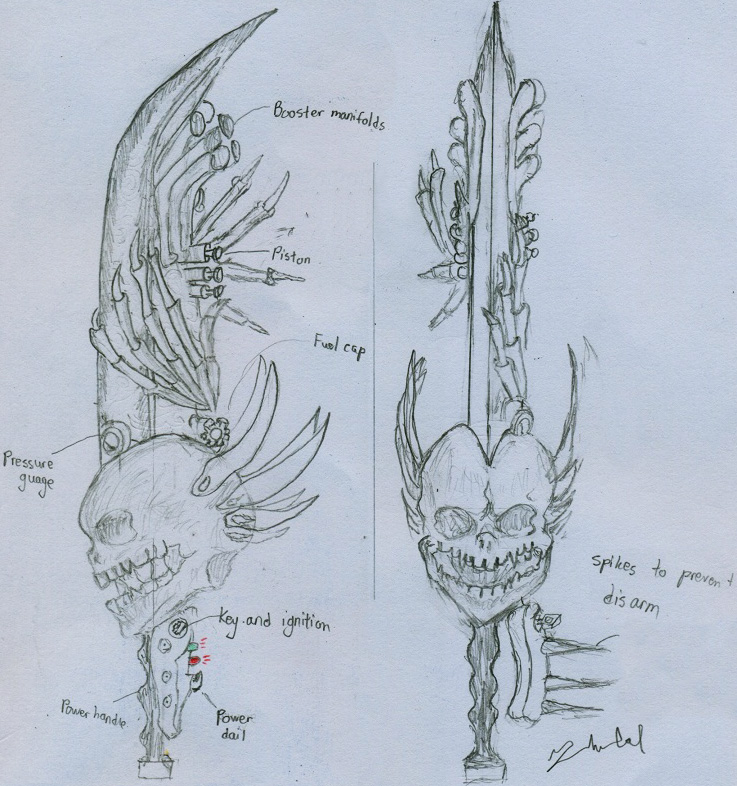 With this very clear outline of what he wanted, we went to work; this was the result after our masterful concept artist was done!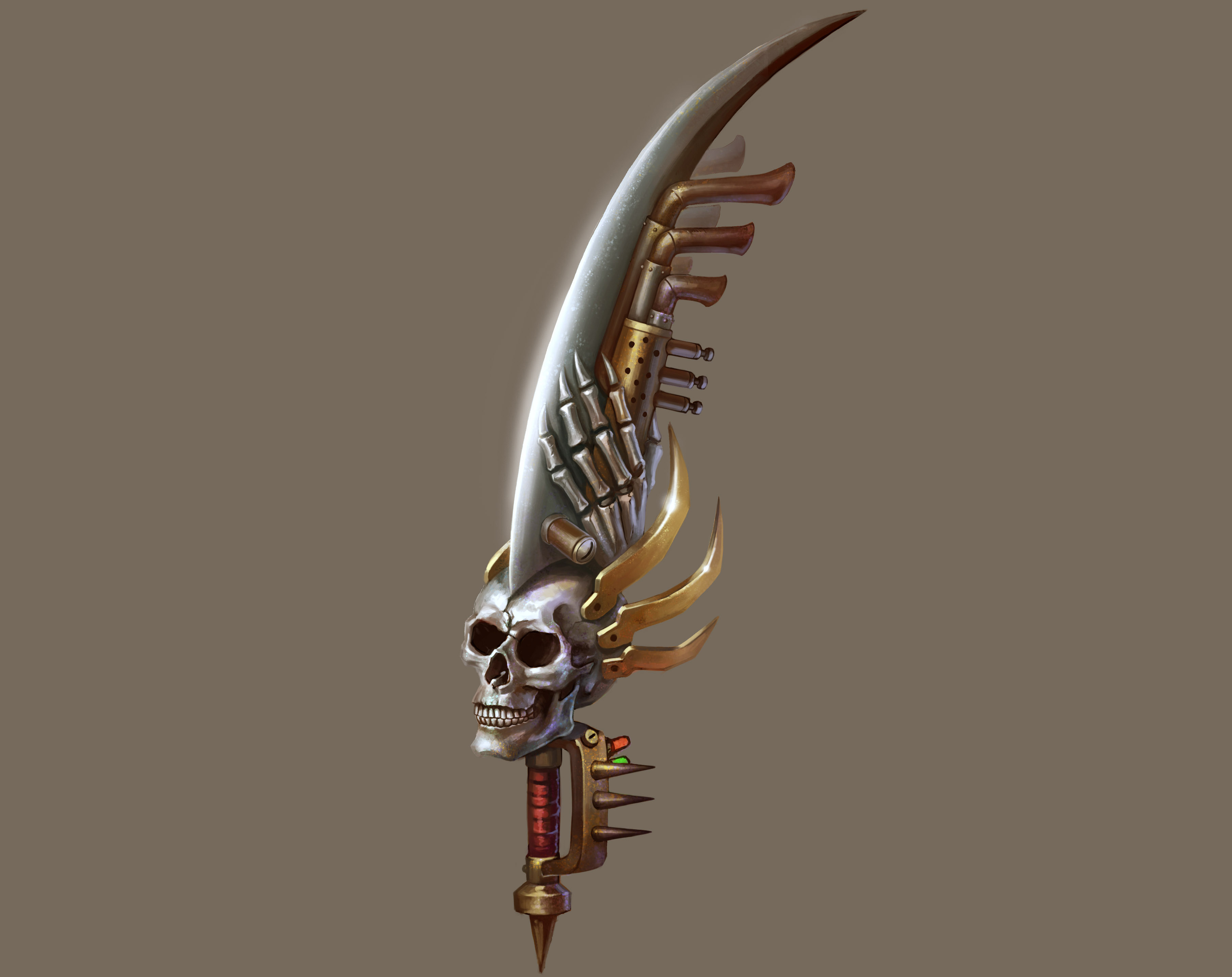 A few things about this 2-handed behemoth we're going to let you find out yourself once it's in the game, but here's the description for the weapon.
"A family treasure of Albun. Both a greaser and an engineer. He had an idea of making a weapon which fuses the power of rock and energy itself. The trend caught on."
Basically, when wielding this sword you're wielding a small engine, for that bit of extra POWERRR on your hacks 'n slashes of course. Now you can really hit like a truck!
Winterschill:
"Power and elegance, forged into one design to create the perfect killing machine."
Winterschill first came up with this design for a kick ass clockwork/steam bow, the problem being that none of the current classes (currently) can use a bow. Before we could tell him though, he had already sent in this awesome sketch. We thought it was worth sharing. Besides… one day maybe…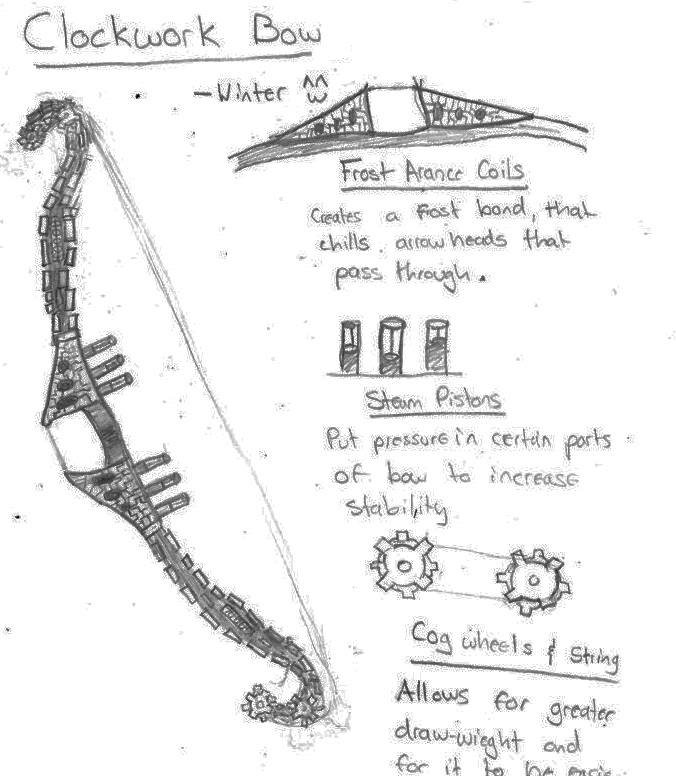 After hearing that we couldn't do a bow however, he quickly sent these two sketches of the rifle, one for the weapon itself, and one for the color placement. He also gave us a very specific description and provided just about every detail on it; also, peaches.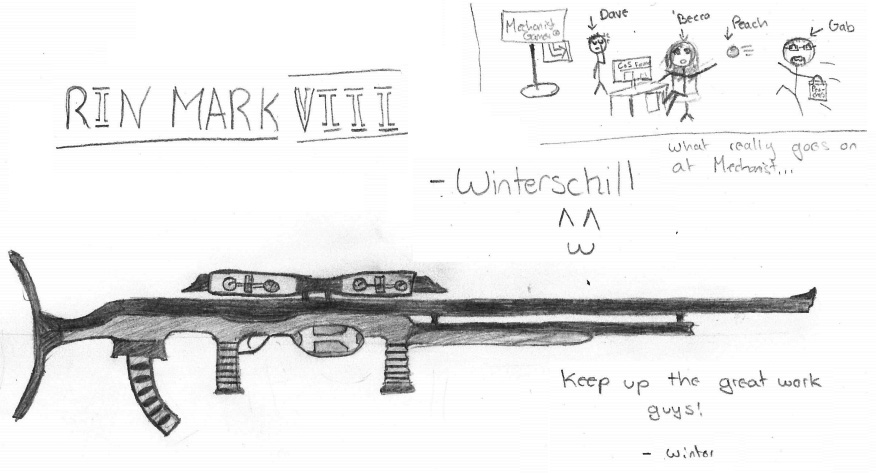 So we went to work to make a rifle and a companion sidearm for short range. And this is how the Rin Insomnia Rifle, a high powered, long range weapon of pinpoint destruction, and the Rin MarkVIII Sidearm, a more compact version for close quarters combat, were born. Sleek, semi-automatic killing machines.

And that's it for this week and another four of our Paragon supporters! And there are more on the way as we move forward. We've seen some of the final weapon models in-game already and they look fan-tas-tic, all of them are available everyone, but we'll let you find out how you can get them yourself. (Have any of you grabbed one yet?)
The Paragon item design extra is still available until the 5th of December, after which we're going to phase them out! Now… I'm sure you want to know why? Well, the truth is that as great as it is to design these, they can take a lot of time to implement, considering all of the stages they have to go through. To keep things under control as we move forward, we'll need to focus. But there's still time if you've been wanting to design your own item! So get them here! We're also still running the Steam-o-Meter and we're getting close to the Heartland Valiant, the Transmuter, Prestige Classes and of course… Stretch Goals! So tell your friends, register, subscribe to our newsletter and check out and like our facebook page!
Thoughts on our Founders' ideas? Go to the Forum and share yours!
Thanks again to all supporters, and special thanks to all the great designs by our Paragons!
- City of Steam Dev Team