This is a repost from City of Steam Design Dev Journal
Today is more of a progress update or reiteration of a feature that has been in development for a long time. I'm talking about the myth docks, the teleporters of ancient origin that have been repurposed around Nexus to offer convenient and instant transport to some of the city's hard to reach places.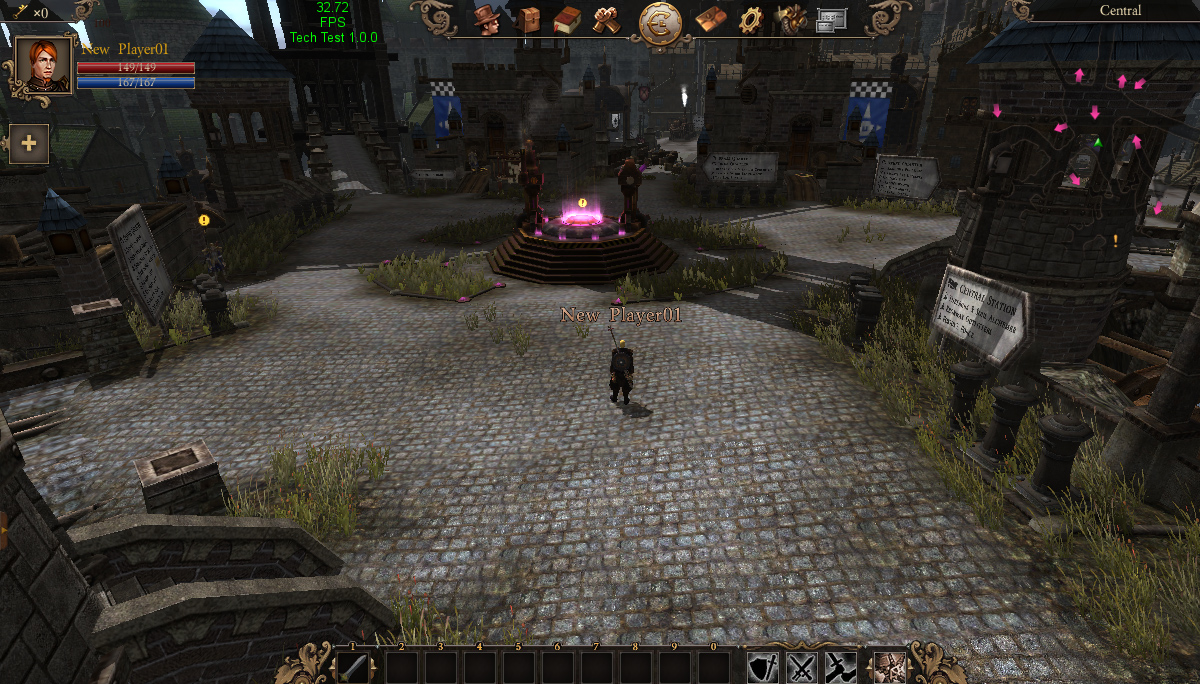 First, I'll give people a bit of history about these machines, and the designs that failed.
Take 1: The first myth dock just returned you to the city. It was a simple NPC standing there with the ability to relocate a player. It really didn't get used and sooner or later we realized that it just wasn't providing anything to the game.
Take 2: The second iteration of the myth dock sold a "docket" which you could use as a teleport token to return to anywhere you'd been before. However, carrying around all these non-stackables was too cumbersome and took up all the space for sweet loots. Also, after you'd used up your dockets, you couldn't get back there. Trading with someone for the right dockets became annoying, too. And, it was really easy to forget, after teleporting, to buy your replacement docket. Thus, it frustrated us and simply had to change.
Take 3: The next mythdock was a machine you interacted with. This both sold dockets to the player and teleported them. But it was really awkward to use, the interface was clunky, and the convenience was minimal because each mythdock had extremely limited use. For a long time, there was no mythdock heading out from a city hub, so it couldn't do two-way travel. All in all, it was an afterthought, not planned well and poorly implemented. We had plenty of other bugs to work on so it just got swept under the rug.
We started over… again. Damn we really do that a lot. Artists gonna kill me again… right after the coders do. And so we arrived at our current iteration, described below. I'm going to bullet point this to save you time.
- Mythdocks are platforms upon which you can stand.
- When you stand on one, it provides options for you to teleport.
- Each area has a network of interconnected docks.
- You can only teleport to other docks in the same network.
- You have to unlock mythdocks one by one, so that you can return to them.
- If you want to travel to a whole different suburb, you have to take the railhauler.
Note About World Layout: This design also compliments the new world layout. Basically, there is a central scene, and fingers of dungeon/action-environments spreading out from that. However, no dungeon connects one suburb to another. Basically, the places a character can travel to unlock over time because the world is simply too huge and intimidating to a first-time player. Thus, the myth docks and myth hubs support the city layout by limiting options until you're ready to explore further.
Here is the myth hub in Central. It's kinda funny – you won't even go to Central in the alpha but we do all our screenshots here to avoid spoilers. You can see that it has a pretty large area to walk over and is easily identifiable from other elements in the scene.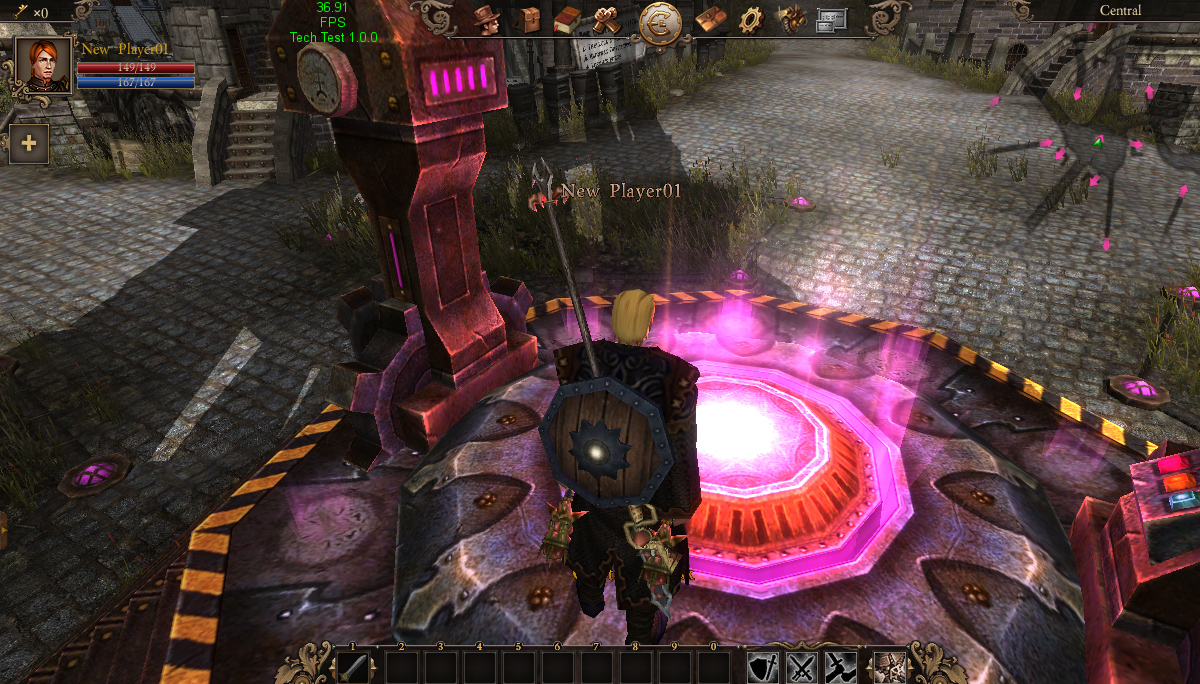 Here's a myth dock in a sewer called The Bilge. Usually there are a lot of ratlings here, but not today. The myth dock has a much simpler GUI, essentially the same as a portal because it can only send to a single target myth hub.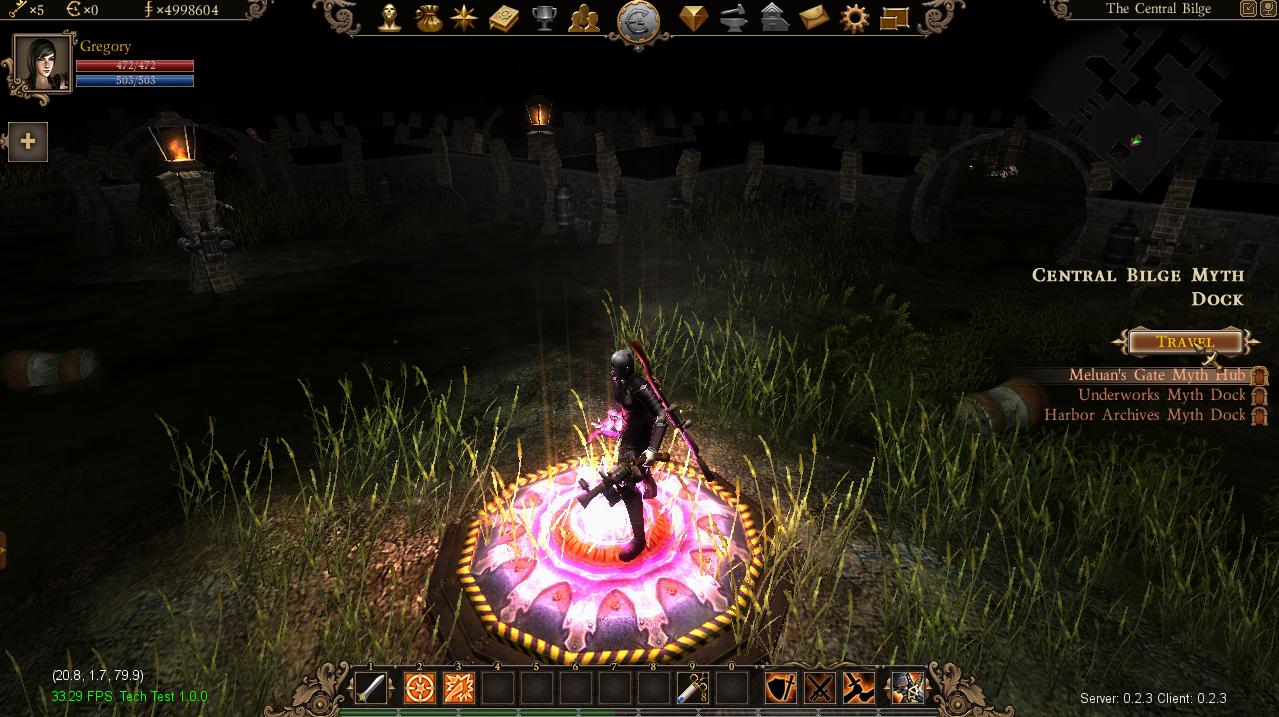 It's also a good opportunity to show you guys the improvements in progress for dungeons. Remember the old sewer levels that we used to have? The flowing terrain in these new levels, the reeds and grass swaying in the subterranean breeze and the lapping, transparent water effect will make these levels much more varied, interesting and replayable.
As always, be sure to post your thoughts on our forum and ask any relevant questions.