This is a repost from City of Steam Content Dev Journal.

This week, let's look into the lifestyles of our lovable (but not-so-cuddly) goblins! In a previous dev journal entry, we talked about how our goblin concept art went from the common "warty" goblin (as most would expect), to a more visually appealing "cute" and sprite-like design (aww, wook at the pwetty gobwin!).Branded with a stigma shared by all greenskin races, generally originating from hobbe and especially orc misdeeds, goblins who try to make it in the civilized world have a hard time fitting in. That's not to say they don't cause any of their own trouble, of course, but being lumped in with their gruff and uncivil orc cousins (distant cousins) certainly does them no favors. Being the first of the greenskins to join the civilized lands, they started out as scavengers and hoarders, eventually gaining a reputation for being able to "fix anything" (although "fixed" is a relative term in their case, and typically far from satisfactory) by repairing wrecks to earn a living. Their natural curiosity and cunning, and tendencies to experiment with anything in sight, tend to get them out of almost as much trouble as they get into (in other words, a goblin would be the first to push the big red "Do Not Push" button).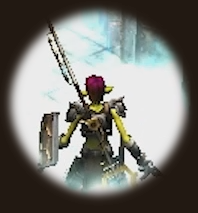 Goblins make darn fine Arcanists, too!
Goblin Families
Now, goblins have large, and I mean large, families. In the World Machine, it's not uncommon for them to lose track of who they are related to. As such, parenting requires a level of focus that is unparallel, having to keep up with the unwavering liveliness of so many goblin children.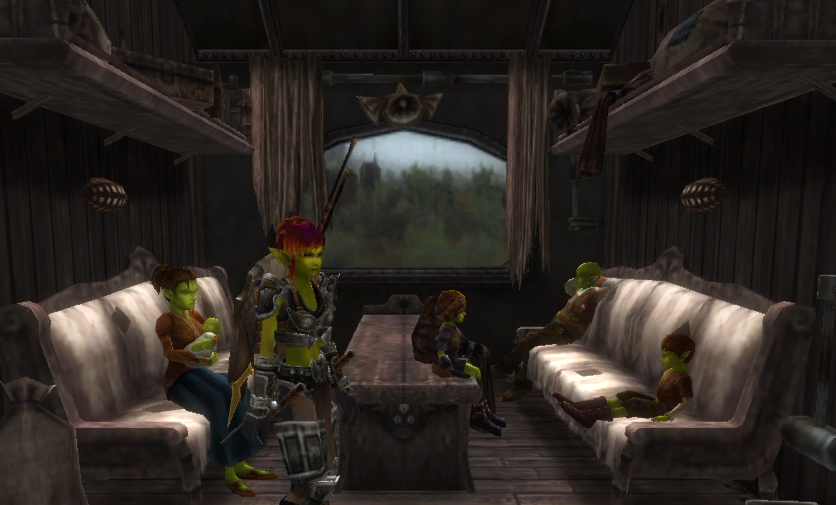 Family rail hauler ride to Nexus

So why are their families so large? Well, there are a couple of factors contributing to this. For one, they not only have high birth rates but also a high level of multiplebirths. Goblin twins and triplets are much more common than with other races (not quite as bad as rabbits or anything, mind you).
Another thing is that goblins have an incredible digestive system, and are able to eat just about anything. This is a major factor for their survival during famines and other catastrophes affecting food sources. Not only that, but they are highly resistant to ingested poisons, so they are able to eat what would outright kill anyone else. Moreover, certain popular goblin spices are known to be lethal to other races; a fact discovered from cases of otherwise harmless food leading to unfortunate and fatal ends (so you may want to give grandma Blingz's "special rust rolls" a pass…)
In City of Steam, a goblin's family also factors into their quests. We want each race to have its own unique experience, so that a riven, for instance, who is generally high-born and upper class, would have a different spin on their story than an orc trying to surmount poverty and prejudice. This should make it more interesting to try different race/class combinations, as it will be more than just playing the same story but with different abilities.
That said, if you're like us and can't get enough of goblins, you can read more about them and their place in City of Steam here… So what about you? Love goblins to death? Can't stand those little green pests? Share your thoughts on the Forum!

-City of Steam Dev Team