Today we reveal the most important part of the game, the Forensic Investigation Bureau. As a forensic investigator, you'll have to collaborate with this CIA independent office. Mark needs your help to bring a conspiracy case he unearthed to justice. The more you can uncover and deliver to the Office of the Inspector General, the higher you will score. To play the game, you'll need to regularly log to the OIG FIB's site to register your findings and obtain your score.
But first, a bit about the game concept:
Mark Lane's Logs: Project H.U.M.A.N. is a Forensic Alternate Reality Game (FARG). The game features a new format and gameplay: Contrary to traditional ARGs, instead of being played live (as it happens), this game is post-event.
You start with just a SMS message from Mark Lane. From there, you have to reproduce Mark's steps, find what he found, and live a discovery adventure just like he did. The game is heavily based on real-world facts and news, and is highly visual. Hundreds of photos will let you revive Mark's adventure as if you were there.
The entire game can be played on a computer device, although there is no software. You are enticed to take the challenge and go out to cyberspace looking for things that will help you discover and solve the case. Still, leaving your computer for a while can help you in some parts of the game. The truth is somewhere out there, on the Internet. You're out in the wild. The Internet is millions of times bigger than a computer game sandbox. It's a kind of 21st century treasure hunt, but much more complex, mixed with cryptography, problem-solving, forensic work, intertwined with real-world facts and events, with a strong narrative featuring a hollywood-style plot.
CIA's OIG FIB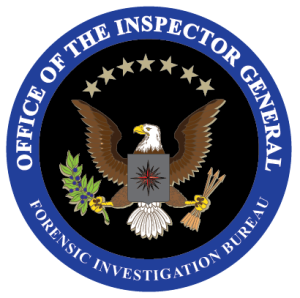 CIA's Office of the Inspector General (OIG) is the entity that oversees CIA's activities. You can learn more about CIA's OIG here [cia.gov].
The Office of the Inspector General has recently created the Forensic Investigation Bureau (FIB). This bureau lets the general public help OIG's efforts by collaborating on the investigation of existing cases, or open new cases by providing enough credible evidence that supports such case.
This collaboration between the OIG and the general public is fully supported by electronic means, through OIG FIB's website.
Your Job
To play the game, you'll need to join the OIG FIB as an external investigator. An internal liaison agent will be assigned to you upon sign up. You'll then be able to open an investigation request.
As you progress in the game, you'll collect many files that make up the case's evidence. You should then report what you collected to the OIG FIB. The more you collect, the stronger the case becomes and the possibility of the Inspector General picking up your case for a formal investigation increases.

You'll also have to locate all the places Mark have been. The closer you can get, the higher you will score.
Access to CIA's Knowledge Base
As an external investigator, you'll have limited access to CIA's knowledge base, a part of the Agency's intelligence database. You can ask information about people, companies, places, missions and other stuff that can help you in your investigation.
Requesting the right information will help you proceed and score on the game.
Your Score and Rank
It's CIA's OIG FIB that scores you.
Your investigation will be scored in two ways: a global numerical score and a completeness score. The global score is calculated according to several factors, including the type of collected evidence and the time taken to find it. Harder-to-find evidence is scored higher. The completeness score is a percentage that represents how far you have progressed in the game. The OIG FIB will maintain the "Forensic Investigator Hall of Fame" on its site: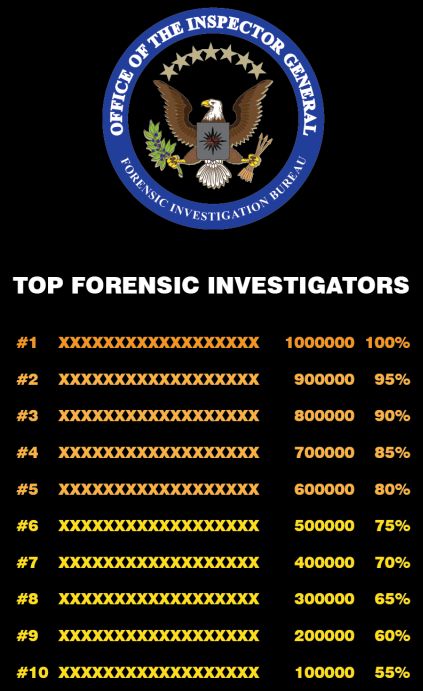 This will be regularly updated. You will be able to compare your score will all other players. You will also be given an overall rank, so that if you are out of the hall of fame, you'll be able to know how far you've progressed compared to the other players.
Want to know more?
Like the game on Facebook!
Facebook.com

The game's official site:
Zorean.com
Follow the game on Twitter!
Twitter.com