First of all i would like to begin by sharing this video that shows about ten minutes of actual in-game footage, the video shows myself playing the game walking from one end of the map to the other as i then start building what was suppose to be a castle (I'm not very creative).



Watched the video? Excellent! One new feature is the rope system that allows you to place rope to asend/desend safely into hard to reach places, the rope also allows you to hang onto it without having to move up and down. Once placed you can also demolish it with the axe and take it with you.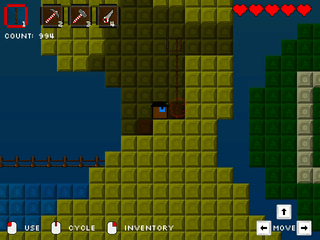 As well as the rope there's a new block in town, rope bridge. The rope bridge once crafted and placed allows the player to create a bridge over dangerous areas to get to the other side. Enemies are also able to use the rope bridge as well :D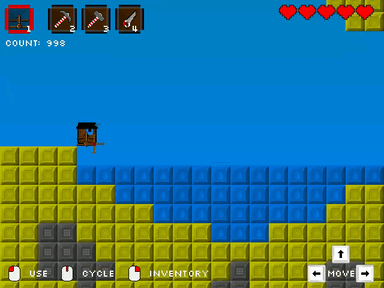 To make things a little more interesting i've added the games first enemy, the evil lady bug that as no attack whatsoever but allows the player to use it as target practice. The lady bug as very basic artificial intelligence, in other words walks left, right and jumps only 1 block high. So yeah... pretty dumb ai.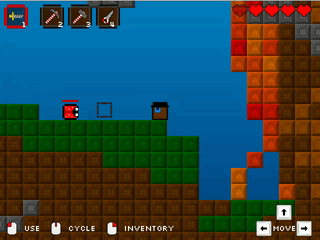 Any finally the last gif shows off the ability to build, what you build is entirely upto you! In this gif i just built a castle as it was easier. You can place blocks, walls, furniture and enviroment blocks such as trees and flowers.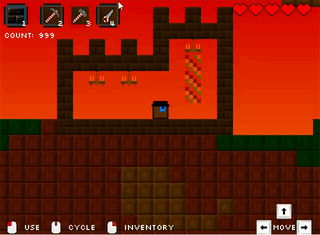 New Inventory Menu

I've revamped the inventory system to make it look a little nicer as well as adding weapon and tool statistics and capping the total number of items you can hold to 30. The inventory system also allows you to unequip and trash items you no longer want.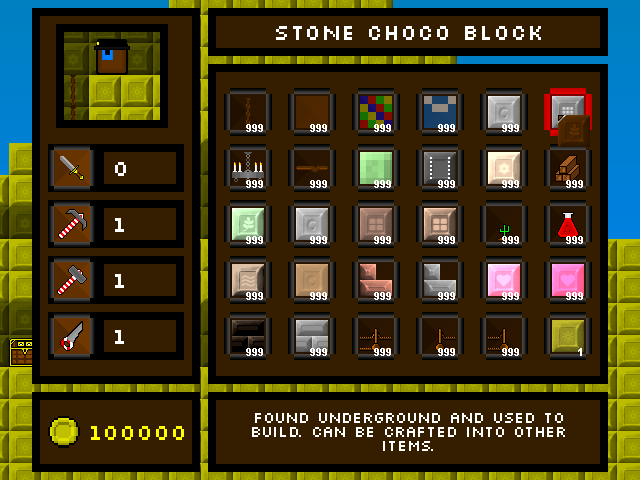 That's all for now.

If you wish to see all updates including bug fixes for this version you can visit the topic over on the forum Indiedb.com

If you download and play my game and wish to provide feedback you can do so here Indiedb.com if you encounter any bugs please report them here Indiedb.com

Thank you for taking the time to read this article, i hope to have a new version with even more cool stuff in the near future! If you like the game be sure to watch it, for now here's the download link to the game Indiedb.com

Danny.