Hey guys! What's up? The past week we've been hard at work developing the controller to which will be used on the main character in Children of Acacia. With this stepping stone out of the way, we are able to improve on the base controller we have allowing all kinds of mechanics to come into play like climbing, rolling, and attack. In addition to the controller, we now have an established Concept Artist, Robin Eyre, who has been working diligently at new ideas for Evlox Studios. Below is a sample of the Jungles of Acacia which he worked on during the past week.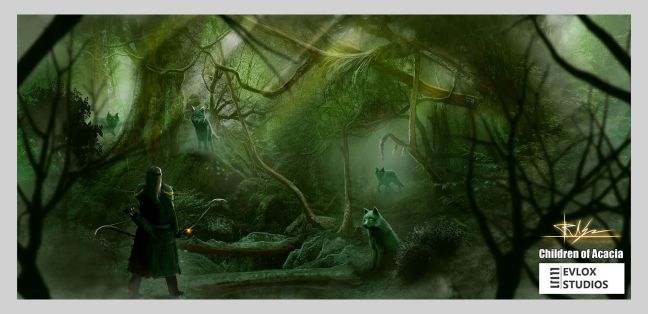 His next stage is to promote a sample of character art in which it will finalize the mood in the game for all who will be following development. Our established texture artist Paul Evans also demonstrated his excellence in his field with new textures for use in the environments. Our modeler Snow has been in production on models for the environment as well as a newly joined Character Modeler working on demonstration models for our upcoming demo.
To end our week we have been promoted on Higher Eclectic Groundswith an article written up on us and an ever growing fan base onTwitter.
With our development on stage 2 of the plan, everyone should expect to see detailed environments as well as character interaction with the map. Enjoy and stay tuned!
Thanks!