But... What is "Razas"?
It's a game developed with the very old tool "RPG Maker 2003", an Hispanic project started time ago with the goal of reaching the top of it, technical by eventing and as well as a game designed by Hispanic people. That's what we call an "HRPG", an Hispanic Role Playing Game were RPG meets with the Hispanic way of making games in the RPG Maker 2003 tool long ago in past years.
You can check more info about story and features here on indiedb.
Our recent update to alpha 1.3e
Recently we pushed an update on our store at itch.io website here. We worked making graphical changes on tilesets and charasets. Look for example our new Inexplored Lands:
This another screenshot is the tileset make for an entrance in Daelthrow's Kingdom.
Also we touched other places such these:
We added a bit more charaset animation to our main characters that will let them to express their mood, for example this: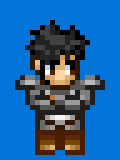 We fixed some other issues such strings of text not properly translated or some re-arrange on tileset maps not related with graphical tileset, or a wicked bug.
Demo release
We uploaded a demo file here for our recently launched early access alpha. We hope players will have a taste of approximately 30-60 minutes from the very beginning to the first open area for exploring, fighting and being captured by the story of "Razas". It's just 1/3 of gameplay available right now through the alpha build, which you can check on our itch.io site here.
With this free demo what we expect from you is:
Check our game and if you like it, support us by picking up the early access alpha.
A lot of feedback. We need to improve more things, playable things and graphics, bug reporting, issues, etc. because we are just only three devs, and only one in charge of all eventing inside the tool. Isn't easy to catch all with the current complexity with the eventing code right now.
You are free to open our demo if you have got RPG Maker 2003. Moreover, we encourage you to do because maybe you'll learn about it or perharps, you'll help us making the game as much as possible bugfree.
We need a lot of kind help in our Greenlight here, mainly because we have no funds besides what the game sell on itch.io, no marketing money campaign or experience/skills to make one, so just our little time, effort and love for the game is what we have. We could said as "indie w/ no $".
To keep things brief, you can search more info of our game here on indiedb, but you can check our website too here. Please, we need your feedback to improve it, we need to polish more some mischievous bugs, listen your positive or otherwise things and obviously... your vote on our Greenlight. You will have the last word on our game!
An the next step is...
In the next weeks we'll look into the merge system for remaking from scratch:
We need to include inside the picture menu and not as an outside map, fix those fonts not properly displayed, integration with the "extra" options and many more fix, such attach this merge system with the maestría system that we need to design for our early access development.
Contact with us and share your feedback
You may contact with us through indiedb, twitter, our Greenlight page or itch.io website. We are openly minded to your feedback, because the most valuable thing for us now it's your opinion to continue improving our game.
Ah! Our hero wants to say you something...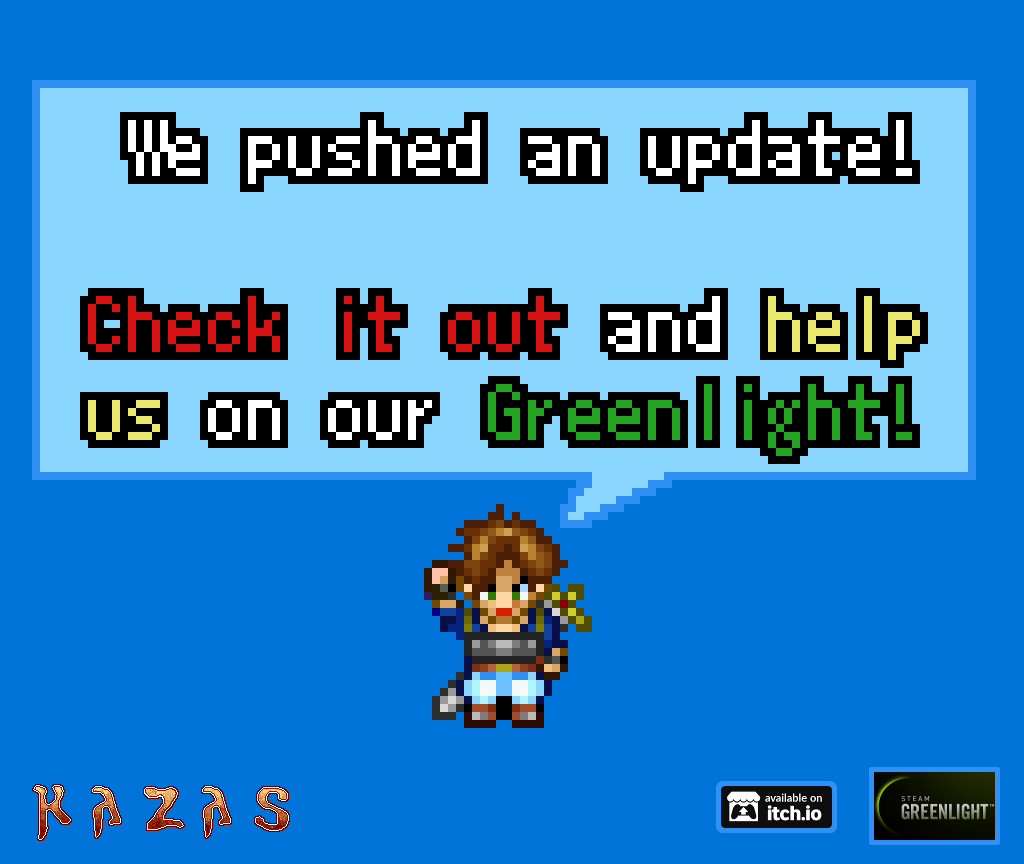 Cheers!